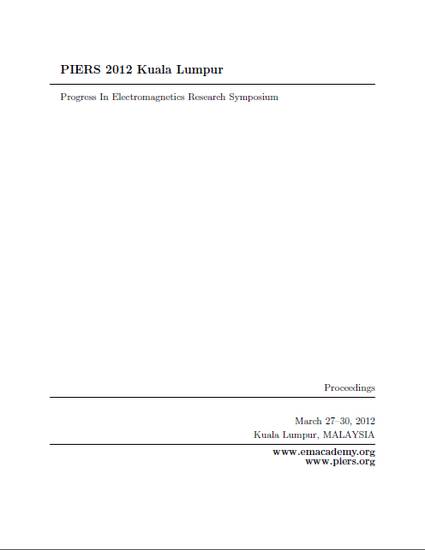 Presentation
Performance Evaluation of Three Rectangular Patch Element Array Antenna Conformed on Small Radius Cylindrical Surface
Progress In Electromagnetics Research Symposium, Kuala Lumpur, Malaysia (2012)
Abstract
The cylindrical geometry can o®er certain desirable antenna characteristics that
are not provided by planar elements. In this paper, a three-element cylindrical conformal array
antenna has been presented as a candidate for use in wireless communications and Radio Fre-
quency Identi¯cation (RFID). Each element in the array is a microstrip fed rectangular patch
antenna designed to resonate at 2.4 GHz. Once the desired results were obtained for a single
element, each element in the conformal cylindrical array has been then designed using the same
dimensions and parameters. Modeling and performance evaluation of the array has been carried
out using the commercially available electromagnetic software CST Studio SuiteTM 2009. Sim-
ulations have been conducted to study the performance of the proposed conformal array as well
as the e®ects of small radius cylinder on mutual coupling and the radiation pattern of the array.
The cylindrical radii in consideration are of about one quarter wavelengths or slightly more. The
radius of cylinder used in simulation is taken to be 0.24¸ and 0.32¸. Compared with the existing
cylindrical conformal antenna, the proposed array antenna possesses a reduction in cylindrical
structure radius with acceptable ominidirectionality and gain needed for wireless communications
and RFID applications.
Publication Date
March 27, 2012
Citation Information
Jawad K. Ali and Emad S Ahmed. "Performance Evaluation of Three Rectangular Patch Element Array Antenna Conformed on Small Radius Cylindrical Surface"
Progress In Electromagnetics Research Symposium, Kuala Lumpur, Malaysia
(2012)
Available at: http://works.bepress.com/jawad_ali/31/