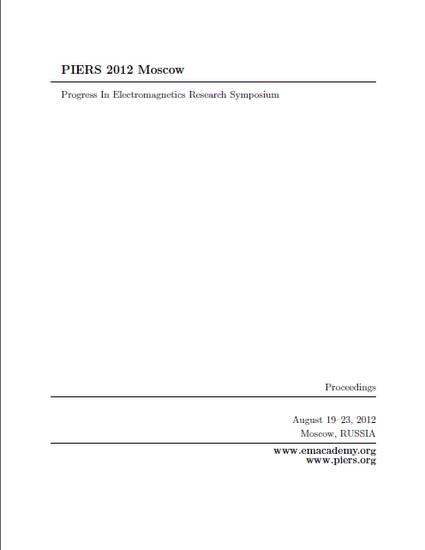 Presentation
An ultra-wideband printed monopole antenna with a fractal based reduced ground plane
Progress In Electromagnetics Research Symposium, Moscow, Russia (2012)
Abstract
Recently, the ultra-wideband (UWB) systems have attracted much attention be-
cause of its advantages including high speed data, small size, low cost, and low complexity.
Consequently, the UWB antenna has received an increased attention due to its impedance band-
width, simple structure and omni-directional radiation pattern. In this paper, the e®ects of the
ground plane of a printed monopole UWB antenna, fed with a 50­ microstrip line, have been
investigated. A Koch fractal based ground plane structure has been proposed as a means to
enhance the UWB antenna performance. Different ground plane structures and feeding methods
have been applied to a notched band monopole antenna structure that is a nearly square with
embedded E-shaped slot. The proposed antenna has been supposed to be etched using a substrate
with relative permittivity of 4.6 and thickness of 1.6 mm. Modeling and performance evaluation
of the presented antenna designs have been carried out using a method of moments based EM
simulator, IE3D. Simulation results have shown that the antenna with Koch based ground plane
and asymmetrical feed offers larger fractional bandwidth of about 124%. By this increment in the
antenna bandwidth, it is expected that by suitable dimension scaling of the enhanced bandwidth
UWB antenna, many communication services below 3.1 GHz could be integrated with the UWB
systems.
Publication Date
August 19, 2012
Citation Information
Jawad K. Ali, Ali J Salim, Ali I. Hammoodi and Hussam Alsaedi. "An ultra-wideband printed monopole antenna with a fractal based reduced ground plane"
Progress In Electromagnetics Research Symposium, Moscow, Russia
(2012)
Available at: http://works.bepress.com/jawad_ali/29/