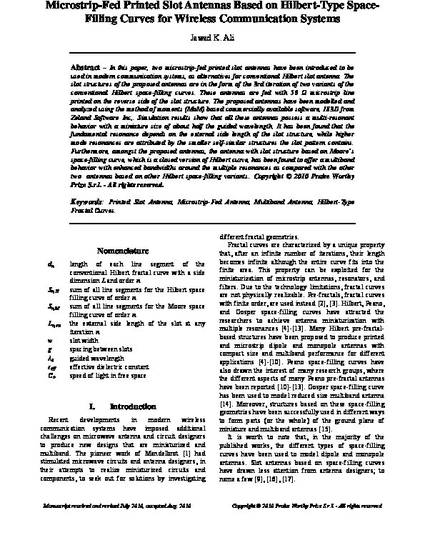 Article
Microstrip-Fed Printed Slot Antennas Based on Hilbert-Type Space-Filling Curves for Wireless Communication Systems
International Review on Modelling and Simulations (I.RE.MO.S.) (2010)
Abstract
In this paper, two microstrip-fed printed slot antennas have been introduced to be used in modern communication systems, as alternatives for conventional Hilbert slot antenna. The slot structures of the proposed antennas are in the form of the 3rd iteration of two variants of the conventional Hilbert space-filling curves. These antennas are fed with 50 Ω microstrip line printed on the reverse side of the slot structure. The proposed antennas have been modeled and analyzed using the method of moments (MoM) based commercially available software, IE3D from Zeland Software Inc,. Simulation results show that all these antennas possess a multi-resonant behavior with a miniature size of about half the guided wavelength. It has been found that the fundamental resonance depends on the external side length of the slot structure, while higher mode resonances are attributed by the smaller self-similar structures the slot pattern contains. Furthermore, amongst the proposed antennas, the antenna with slot structure based on Moore's space-filling curve, which is a closed version of Hilbert curve, has been found to offer a multiband behavior with enhanced bandwidths around the multiple resonances as compared with the other two antennas based on other Hilbert space-filling variants.
Citation Information
Jawad K. Ali. "Microstrip-Fed Printed Slot Antennas Based on Hilbert-Type Space-Filling Curves for Wireless Communication Systems"
International Review on Modelling and Simulations (I.RE.MO.S.)
Vol. 3 Iss. 4 (2010) p. 672 - 678
Available at: http://works.bepress.com/jawad_ali/25/