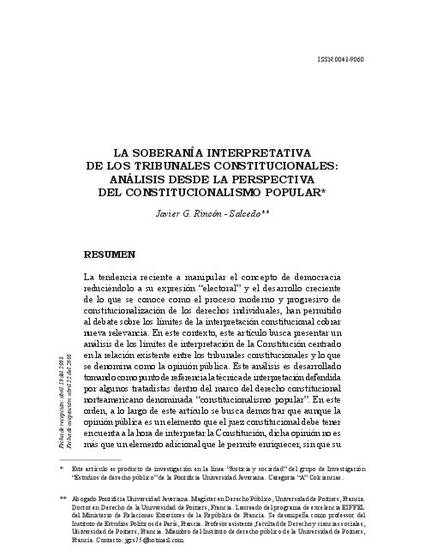 Article
La soberanía Interpretativa de los Tribunales Constitucionales. Análisis desde la Perspectiva del constitucionalismo Popular / The interpretative sovereignty of the constitutional courts: An analysys from a popular constitutionalism perspective
Universitas Review (2008)
Abstract
The recent tendency to manipulate the concept of democracy reducing it to its "electoral" expression and the increasing development of the process that is known as the modern and progressive "constitutionalisation" of the individual rights, have allowed to the discussion on the limits of the constitutional interpretation to acquire knew relevance. Within this context, this article looks for to present an analysis of the Constitution interpretation limits centered in the existing relation between the constitutional courts and what it is denominated as the public opinion. This analysis is developed taking as datum point the interpretation technique defended by some American scholars within the frame of the American constitutional Law denominated "popular constitutionalism". In this order, throughout this article one looks for to demonstrate that although the public opinion is an element that the constitutional judge must consider at the time of interpreting the Constitution, this opinion is not more than an additional element that allows him to enrich, without their observation been obligatory, his reflection. In other terms, in this article one looks for to demonstrate that the constitutional courts must be sovereign and independent organs in the field of the interpretation of the Constitution against the public opinion, because it is the only possible way to avoid that the rights of the minorities are lost under the force of the majorities and because it is the only way to obtained the coherent and firm development of the individual rights.
Citation Information
Javier G Rincón Salcedo. "La soberanía Interpretativa de los Tribunales Constitucionales. Análisis desde la Perspectiva del constitucionalismo Popular / The interpretative sovereignty of the constitutional courts: An analysys from a popular constitutionalism perspective"
Universitas Review
(2008)
Available at: http://works.bepress.com/javier_rincon_salcedo/3/