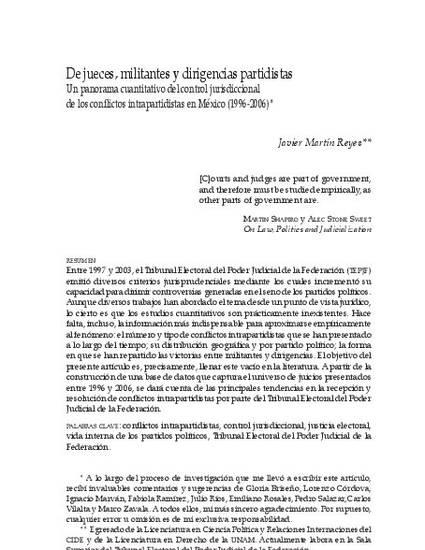 Article
De jueces, militantes y dirigencias partidistas. Un panorama cuantitativo del control jurisdiccional de los conflictos intrapartidistas en México (1996-2006)
Veredas (2012)
Abstract
Of Judges, Militants, and Bosses: A Quantitative Overview of the Judicial Review of Intraparty Disputes in Mexico (1996-2006) Aunque diversos trabajos han estudiado el origen y evolución del control jurisdiccional de la vida interna de los partidos políticos por parte del Tribunal Electoral del Poder Judicial de la Federación (TEPJF), lo cierto es que los estudios cuantitativos son prácticamente inexistentes. Hace falta, incluso, la información más indispensable para aproximarse empíricamente al fenómeno: el número y tipo de conflictos intrapartidistas que se han presentado a lo largo del tiempo; su distribución geográfica y por partido político; la forma en que se han repartido las victorias entre militantes y dirigencias. El objetivo del presente artículo es, precisamente, llenar este vacío en la literatura. A partir de la construcción de una base de datos que captura el universo de juicios presentados entre 1996 y 2006, se dará cuenta de las principales tendencias en la recepción y resolución de conflictos intrapartidistas por parte del TEPJF.
Keywords
electoral justice,
intraparty disputes,
judicial politics,
judicial review,
Mexico,
TEPJF,
conflictos intrapartidistas,
derecho electoral,
justicia electoral,
vida interna de los partidos políticos
Citation Information
Javier Martín Reyes. "De jueces, militantes y dirigencias partidistas. Un panorama cuantitativo del control jurisdiccional de los conflictos intrapartidistas en México (1996-2006)"
Veredas
Iss. 25 (2012)
Available at: http://works.bepress.com/javier_martin/9/