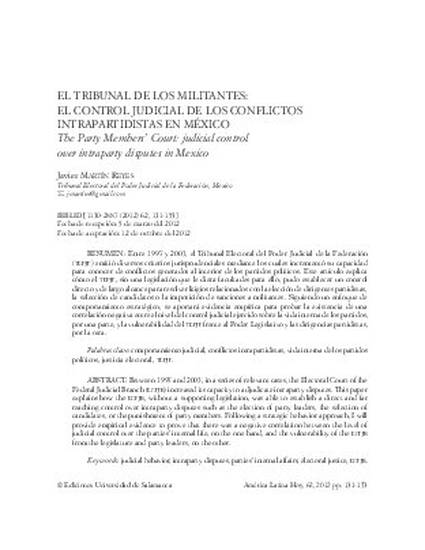 Article
El tribunal de los militantes: el control judicial de los conflictos intrapartidistas en México
América Latina Hoy (2012)
Abstract
The Party Members' Court: Judicial Control over Intraparty Disputes in Mexico.
This paper explains how the Electoral Court of the Federal Judicial Branch (TEPJF) of Mexico, without a supporting legislation, was able to establish a direct and far reaching control over intraparty disputes such as the election of party leaders, the selection of candidates, or the punishment of party members. Following a strategic behavior approach, I will provide empirical evidence to prove that there was a negative correlation between the level of judicial control over the parties' internal life, on the one hand, and the vulnerability of the TEPJF from the legislature and party leaders, on the other.
Este artículo explica cómo el Tribunal Electoral del Poder Judicial de la Federación (TEPJF), sin una legislación que le diera facultades para ello, pudo establecer un control directo y de largo alcance para resolver litigios relacionados con la elección de dirigentes partidistas, la selección de candidatos o la imposición de sanciones a militantes. Siguiendo un enfoque de comportamiento estratégico, se aportará evidencia empírica para probar la existencia de una correlación negativa entre el nivel del control judicial ejercido sobre la vida interna de los partidos, por una parte, y la vulnerabilidad del TEPJF frente al poder legislativo y las dirigencias partidistas, por la otra.
Keywords
judicial behavior,
intraparty disputes,
parties' internal affairs,
electoral justice,
TEPJF,
Mexico,
comportamiento judicial,
conflictos intrapartidistas,
vida interna de los partidos políticos,
justicia electoral
Citation Information
Javier Martín Reyes. "El tribunal de los militantes: el control judicial de los conflictos intrapartidistas en México"
América Latina Hoy
Vol. 62 (2012)
Available at: http://works.bepress.com/javier_martin/8/