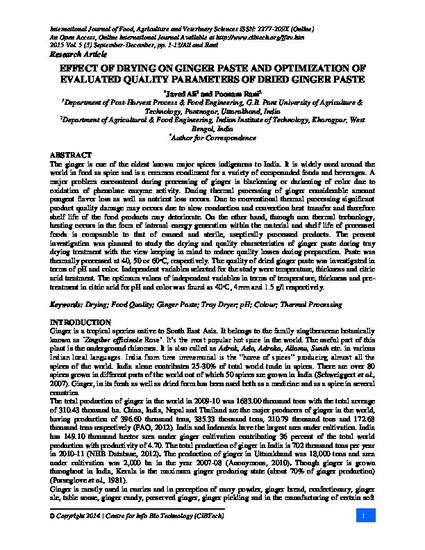 Article
Effect of Drying on Ginger Paste and Optimization of Evaluated Quality Parameters of Dried Ginger Paste
International Journal of Food, Agriculture and Veterinary Sciences (2015)
Abstract
The ginger is one of the oldest known major spices indigenous to India. It is widely used around the world in food as spice and is a common condiment for a variety of compounded foods and beverages. A major problem encountered during processing of ginger is blackening or darkening of color due to oxidation of phenolase enzyme activity. During thermal processing of ginger considerable amount pungent flavor loss as well as nutrient loss occurs. Due to conventional thermal processing significant product quality damage may occurs due to slow conduction and convection heat transfer and therefore shelf life of the food products may deteriorate. On the other hand, through non thermal technology, heating occurs in the form of internal energy generation within the material and shelf life of processed foods is comparable to that of canned and sterile, aseptically processed products. The present investigation was planned to study the drying and quality characteristics of ginger paste during tray drying treatment with the view keeping in mind to reduce quality losses during preparation. Paste was thermally processed at 40, 50 or 60ᵒC, respectively. The quality of dried ginger paste was investigated in terms of pH and color. Independent variables selected for the study were temperature, thickness and citric acid treatment. The optimum values of independent variables in terms of temperature, thickness and pre-treatment in citric acid for pH and color was found as 40ᵒC, 4mm and 1.5 g/l respectively.
Keywords
Drying,
Food Quality,
Ginger Paste,
Tray Dryer,
pH,
Colour,
Thermal Processing
Publication Date
December, 2015
Citation Information
Javed Ali and Poonam Rani. "Effect of Drying on Ginger Paste and Optimization of Evaluated Quality Parameters of Dried Ginger Paste"
International Journal of Food, Agriculture and Veterinary Sciences
Vol. 5 Iss. 3 (2015) p. 1 - 13 ISSN: 2277-209X
Available at: http://works.bepress.com/javed-ali/4/