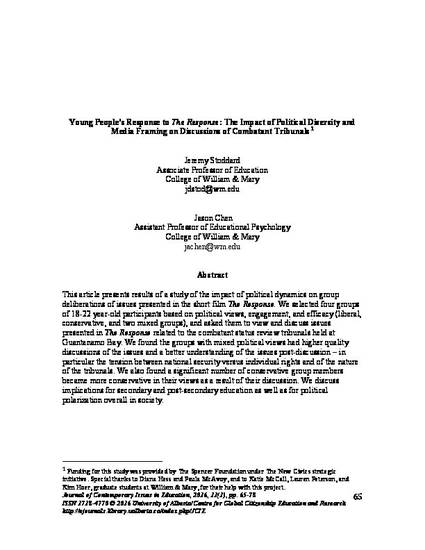 Article
Young people's response to The Response: The impact of political diversity and media framing on discussions of combatant tribunals
Journal of Contemporary Issues in Education
Department/Program
Education
Publication Date
1-1-2016
Abstract
This article presents results of a study of the impact of political dynamics on group deliberations of issues presented in the short film The Response. We selected four groups of 18-22 year-old participants based on political views, engagement, and efficacy (liberal, conservative, and two mixed groups), and asked them to view and discuss issues presented in The Response related to the combatant status review tribunals held at Guantanamo Bay. We found the groups with mixed political views had higher quality discussions of the issues and a better understanding of the issues post-discussion – in particular the tension between national security versus individual rights and of the nature of the tribunals. We also found a significant number of conservative group members became more conservative in their views as a result of their discussion. We discuss implications for secondary and post-secondary education as well as for political polarization overall in society.
Creative Commons License
Creative Commons Attribution 4.0
Citation Information
Jeremy Stoddard and Jason Chen. "Young people's response to The Response: The impact of political diversity and media framing on discussions of combatant tribunals"
Journal of Contemporary Issues in Education
Vol. 11 Iss. 1 (2016) p. 65 - 78
Available at: http://works.bepress.com/jasonchen/26/