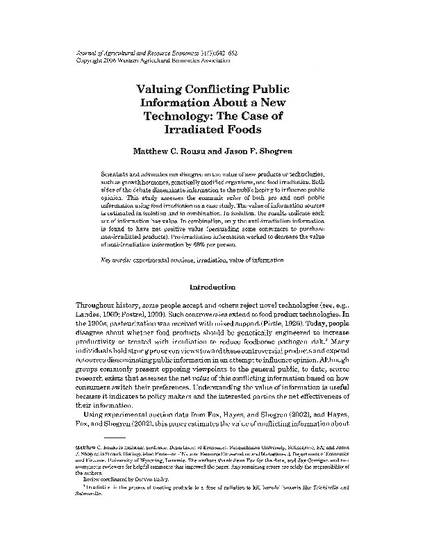 Article
Valuing Conflicting Public Information About a New Technology: The Case of Irradiated Foods
Journal of Agricultural and Resource Economics (2006)
Abstract
Scientists and advocates can disagree on the value of new products or technologies, such as growth hormones, genetically modified organisms, and food irradiation. Both sides of the debate disseminate information to the public hoping to influence public opinion. This study assesses the economic value of both pro and anti public information using food irradiation as a case study. The value of information sources is estimated in isolation and in combination. In isolation, the results indicate each set of information has value. In combination, only the anti-irradiation information is found to have net positive value (persuading some consumers to purchase non-irradiated products). Pro-irradiation information worked to decrease the value of anti-irradiation information by 68% per person.
Publication Date
December, 2006
Citation Information
M C Rousu and J F Shogren. "Valuing Conflicting Public Information About a New Technology: The Case of Irradiated Foods"
Journal of Agricultural and Resource Economics
Vol. 31 Iss. 3 (2006)
Available at: http://works.bepress.com/jason_shogren/6/