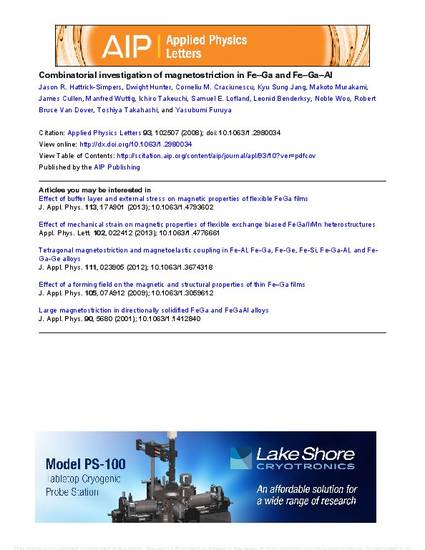 Article
Combinatorial Investigation of Magnetostriction in Fe-Fa and Fe-Ga-Al
Applied Physics Letters
Publication Date
1-1-2008
Abstract
A high-throughput high-sensitivity optical technique for measuringmagnetostriction of thin-film composition-spread samples has been developed. It determines the magnetostriction by measuring the induced deflection of micromachined cantilever unimorph samples. Magnetostrictionmeasurements have been performed on as-deposited Fe–Ga and Fe–Ga–Al thin-film composition spreads. The thin-film Fe–Ga spreads display a similar compositional variation of magnetostriction as bulk. A previously undiscovered peak in magnetostriction at low Ga content was also observed and attributed to a maximum in the magnetocrystalline anisotropy. Magnetostrictive mapping of the Fe–Ga–Al ternary system reveals the possibility of substituting up to 8at.%Al in Fe70Ga30 without significant degradation of magnetostriction.
Citation Information
Jason R. Hattrick-Simpers, Dwight Hunter, corneliu M. Craciunescu, Kyu Sung Jang, et al.. "Combinatorial Investigation of Magnetostriction in Fe-Fa and Fe-Ga-Al"
Applied Physics Letters
Vol. 93 Iss. 10 (2008) p. #102507
Available at: http://works.bepress.com/jason_hattrick-simpers/21/