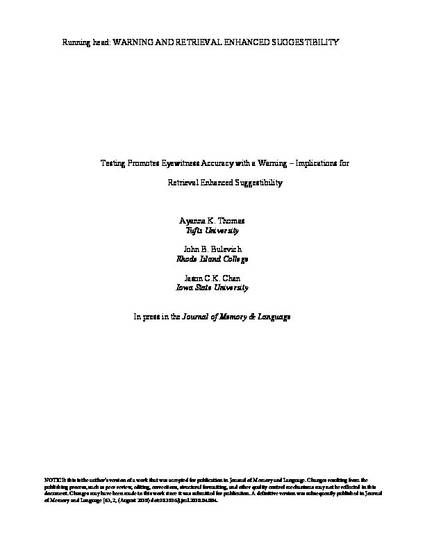 Article
Testing Promotes Eyewitness Accuracy with a Warning – Implications for Retrieval Enhanced Suggestibility
Journal of Memory and Language
Publication Date
8-1-2010
DOI
10.1016/j.jml.2010.04.004
Abstract
Numerous studies have demonstrated that repeated retrieval boosts later retention. However, recent research has shown that testing can increase eyewitness susceptibility to misleading post-event information (e.g., Chan, Thomas, & Bulevich, 2009). The present study examines the effects of warning on this counterintuitive finding. In two experiments, subjects either took an initial test or performed a filler task after they viewed a video event. They were then given post-event information before they took a final test. Critically, one group of subjects was warned about potential inaccuracies in the post-event narrative and the other group was not. Without a warning, subjects who received an initial test were more likely to endorse misleading post-event information, replicating the retrieval-enhanced suggestibility (RES) effect. However, this RES effect was eliminated when subjects were warned about the veracity of the narrative. These results are consistent with a retrieval fluency account of RES.
Copyright Owner
Chan, et al.
File Format
application/pdf
Citation Information
Ayanna K. Thomas, John B. Bulevich and Jason C.K. Chan. "Testing Promotes Eyewitness Accuracy with a Warning – Implications for Retrieval Enhanced Suggestibility"
Journal of Memory and Language
Vol. 63 Iss. 2 (2010) p. 149 - 157
Available at: http://works.bepress.com/jason_chan/9/