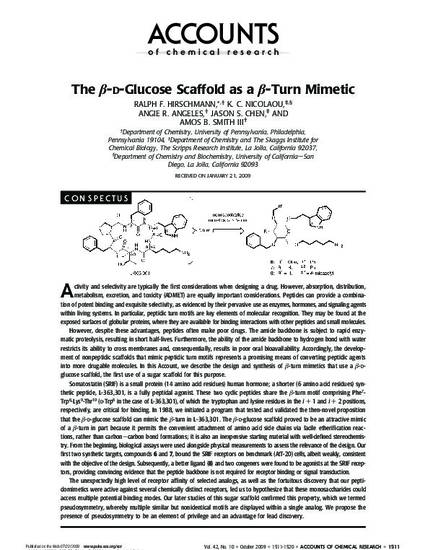 Article
The β-d-Glucose Scaffold as a β-Turn Mimetic
Accounts of Chemical Research (2009)
Abstract
Activity and selectivity are typically the first considerations when designing a drug. However, absorption, distribution, metabolism, excretion, and toxicity (ADMET) are equally important considerations. Peptides can provide a combination of potent binding and exquisite selectivity, as evidenced by their pervasive use as enzymes, hormones, and signaling agents within living systems. In particular, peptidic turn motifs are key elements of molecular recognition. They may be found at the exposed surfaces of globular proteins, where they are available for binding interactions with other peptides and small molecules.
Citation Information
Ralph F. Hirschmann, K.C. Nikolaou, Angie R. Angeles, Jason Chen, et al.. "The β-d-Glucose Scaffold as a β-Turn Mimetic"
Accounts of Chemical Research
Vol. 42 Iss. 10 (2009) p. 1511 - 1520
Available at: http://works.bepress.com/jason-shih-hao-chen/7/