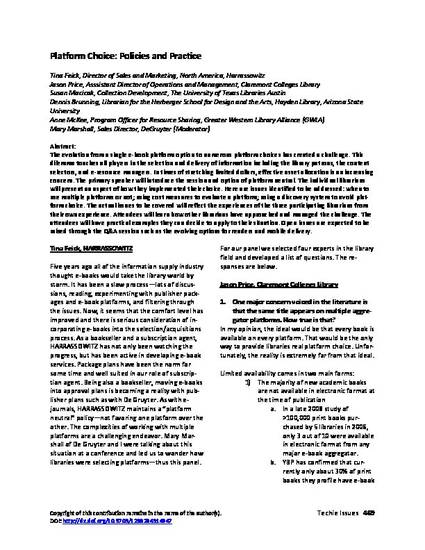 Article
Platform Choice: Policies and Practice
Charleston Library Conference
Abstract
The evolution from a single e-book platform option to numerous platform choices has created a challenge. This dilemma touches all players in the selection and delivery of information including the library patrons, the content selectors, and e-resource managers. In times of stretching limited dollars, effective asset allocation is an increasing concern. The primary speaker will introduce the session and option of platform neutral. The individual librarians will present an aspect of how they implemented their choice. Here are issues identified to be addressed: when to use multiple platforms or not; using cost measures to evaluate a platform; using a discovery system to avoid platform choice. The actual issues to be covered will reflect the experiences of the three participating librarians from their own experience. Attendees will learn how other librarians have approached and managed the challenge. The attendees will have practical examples they can decide to apply to their situation. Open issues are expected to be raised through the Q&A session such as the evolving options for readers and mobile delivery.
DOI
10.5703/1288284314947
Citation Information
Tina Feick, Jason Price, Susan Macicak and Dennis Brunning. "Platform Choice: Policies and Practice"
Available at: http://works.bepress.com/jason-s-price/11/