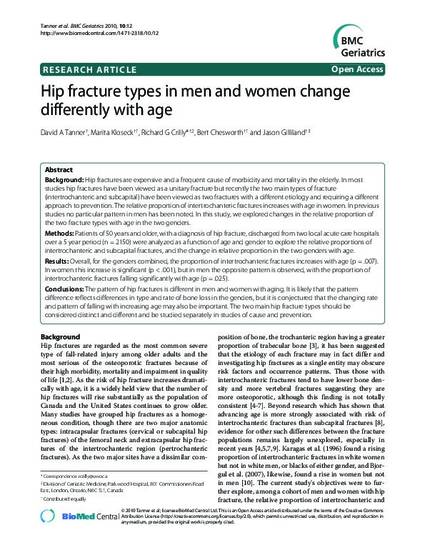 Article
Hip Fracture Types in Men and Women Change Differently with Age
BMC Geriatrics
Publication Date
3-9-2010
URL with Digital Object Identifier
https://doi.org/10.1186/1471-2318-10-12
Abstract
BACKGROUND: Hip fractures are expensive and a frequent cause of morbidity and mortality in the elderly. In most studies hip fractures have been viewed as a unitary fracture but recently the two main types of fracture (intertrochanteric and subcapital) have been viewed as two fractures with a different etiology and requiring a different approach to prevention. The relative proportion of intertrochanteric fractures increases with age in women. In previous studies no particular pattern in men has been noted. In this study, we explored changes in the relative proportion of the two fracture types with age in the two genders. METHODS: Patients of 50 years and older, with a diagnosis of hip fracture, discharged from two local acute care hospitals over a 5 year period (n = 2150) were analyzed as a function of age and gender to explore the relative proportions of intertrochanteric and subcapital fractures, and the change in relative proportion in the two genders with age. RESULTS: Overall, for the genders combined, the proportion of intertrochanteric fractures increases with age (p = .007). In women this increase is significant (p < .001), but in men the opposite pattern is observed, with the proportion of intertrochanteric fractures falling significantly with age (p = .025). CONCLUSIONS: The pattern of hip fractures is different in men and women with aging. It is likely that the pattern difference reflects differences in type and rate of bone loss in the genders, but it is conjectured that the changing rate and pattern of falling with increasing age may also be important. The two main hip fracture types should be considered distinct and different and be studied separately in studies of cause and prevention.
Citation Information
David A. Tanner, Marita Kloseck, Richard G. Crilly, Bert Chesworth, et al.. "Hip Fracture Types in Men and Women Change Differently with Age"
BMC Geriatrics
Vol. 10 Iss. 12 (2010)
Available at: http://works.bepress.com/jason-gilliland/84/