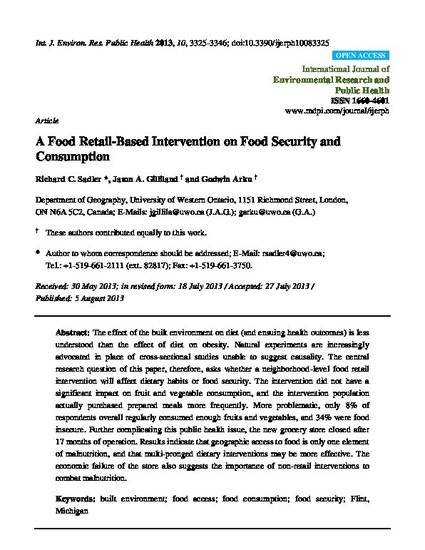 Article
A food retail-based intervention on food security and consumption
International Journal of Environmental Research and Public Health
Publication Date
1-1-2013
URL with Digital Object Identifier
https://doi.org/10.3390/ijerph10083325
Abstract
The effect of the built environment on diet (and ensuing health outcomes) is less understood than the effect of diet on obesity. Natural experiments are increasingly advocated in place of cross-sectional studies unable to suggest causality. The central research question of this paper, therefore, asks whether a neighborhood-level food retail intervention will affect dietary habits or food security. The intervention did not have a significant impact on fruit and vegetable consumption, and the intervention population actually purchased prepared meals more frequently. More problematic, only 8% of respondents overall regularly consumed enough fruits and vegetables, and 34% were food insecure. Further complicating this public health issue, the new grocery store closed after 17 months of operation. Results indicate that geographic access to food is only one element of malnutrition, and that multi-pronged dietary interventions may be more effective. The economic failure of the store also suggests the importance of non-retail interventions to combat malnutrition.
Citation Information
Sadler, R.C.; Gilliland, J.A.; Arku, G. A Food Retail-Based Intervention on Food Security and Consumption. Int. J. Environ. Res. Public Health 2013, 10, 3325-3346.