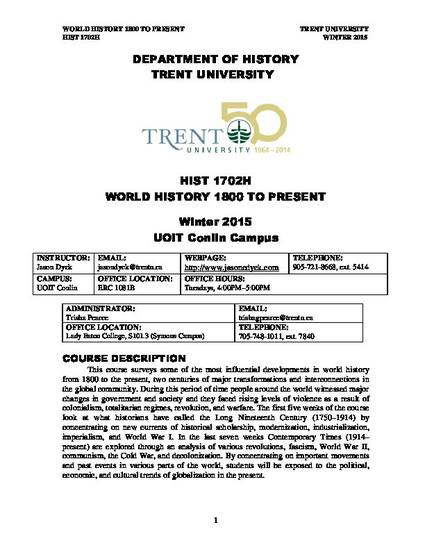 Course Syllabus
HIST1702H (World History 1800 to Present)
World History 1800 to Present (2015)
Description
This course surveys some of the most influential developments in world history from 1800 to the present, two centuries of major transformations and interconnections in the global community. During this period of time people around the world witnessed major changes in government and society and they faced rising levels of violence as a result of colonialism, totalitarian regimes, revolution, and warfare. The first five weeks of the course look at what historians have called the Long Nineteenth Century (1750–1914) by concentrating on new currents of historical scholarship, modernization, industrialization, imperialism, and World War I. In the last seven weeks Contemporary Times (1914–present) are explored through an analysis of various revolutions, fascism, World War II, communism, the Cold War, and decolonization. By concentrating on important movements and past events in various parts of the world, students will be exposed to the political, economic, and cultural trends of globalization in the present.
Citation Information
Jason Dyck. "HIST1702H (World History 1800 to Present)"
World History 1800 to Present
(2015)
Available at: http://works.bepress.com/jason-dyck/37/