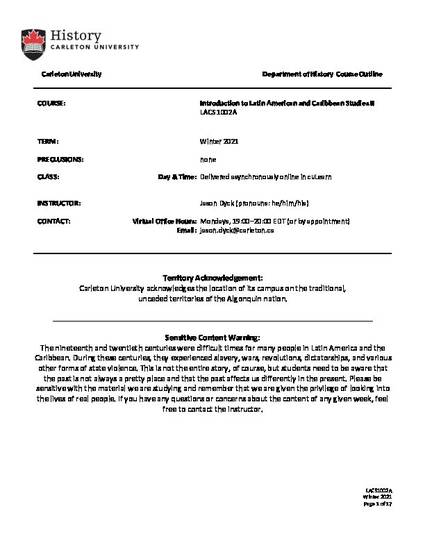 Course Syllabus
LACS1002A (Introduction to Latin American Studies I)
Introduction to Latin American Studies I (2021)
Description
This course surveys the history of Latin America and the Caribbean between the early nineteenth and twenty-first centuries. Specific emphasis is given to the ways in which men and women of all ethnic backgrounds participated in both nation-building and in determining the shape of their daily lives. To test this thesis, the activity of creole elites, presidents, caudillos, intellectuals, and artists will be analyzed alongside that of Indigenous peoples, Afro-Latin Americans, slum-dwellers, peasants, and transmigrant workers in Canada. This multiethnic conversation will be followed through independence, caudillo rule, progress and modernization, populism, revolution, the Cold War, and neoliberal reforms. To analyze larger themes characteristic of the region, lessons and forums will primarily concentrate on Mexico, Argentina, Brazil, Chile, Cuba, Guatemala, and Nicaragua.
Citation Information
Jason Dyck. "LACS1002A (Introduction to Latin American Studies I)"
Introduction to Latin American Studies I
(2021)
Available at: http://works.bepress.com/jason-dyck/33/