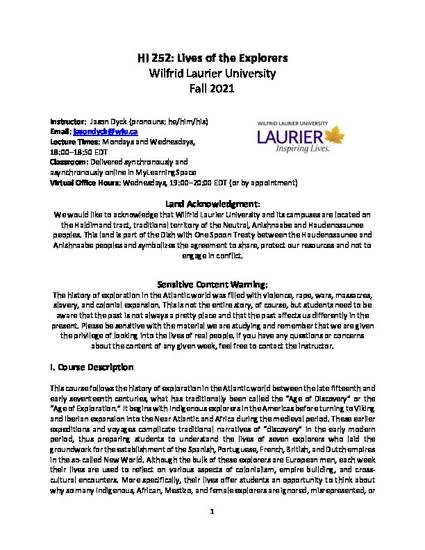 Course Syllabus
HI252 (Lives of the Explorers)
Lives of the Explorers (2021)
Description
This course follows the history of exploration in the Atlantic world between the late fifteenth and early seventeenth centuries, what has traditionally been called the "Age of Discovery" or the "Age of Exploration." It begins with Indigenous explorers in the Americas before turning to Viking and Iberian expansion into the Near Atlantic and Africa during the medieval period. These earlier expeditions and voyages complicate traditional narratives of "discovery" in the early modern period, thus preparing students to understand the lives of seven explorers who laid the groundwork for the establishment of the Spanish, Portuguese, French, British, and Dutch empires in the so-called New World. Although the bulk of these explorers are European men, each week their lives are used to reflect on various aspects of colonialism, empire building, and cross-cultural encounters. More specifically, their lives offer students an opportunity to think about why so many Indigenous, African, Mestizo, and female explorers are ignored, misrepresented, or only briefly mentioned in passing in colonial texts and modern historiography. The course ends with an analysis of the ways in which early modern explorers have been remembered in film, monuments, and popular culture.
Keywords
exploration,
colonialism,
Indigenous,
Atlantic world history
Citation Information
Jason Dyck. "HI252 (Lives of the Explorers)"
Lives of the Explorers
(2021)
Available at: http://works.bepress.com/jason-dyck/31/