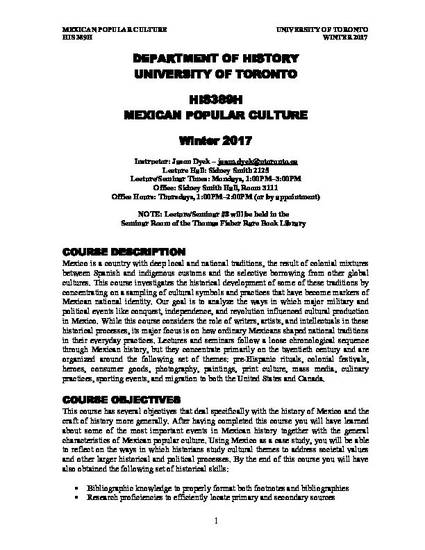 Course Syllabus
HIS389H (Mexican Popular Culture)
Mexican Popular Culture (2017)
Description
Mexico is a country with deep local and national traditions, the result of colonial mixtures between Spanish and indigenous customs and the selective borrowing from other global cultures. This course investigates the historical development of some of these traditions by concentrating on a sampling of cultural symbols and practices that have become markers of Mexican national identity. Our goal is to analyze the ways in which major military and political events like conquest, independence, and revolution influenced cultural production in Mexico. While this course considers the role of writers, artists, and intellectuals in these historical processes, its major focus is on how ordinary Mexicans shaped national traditions in their everyday practices. Lectures and seminars follow a loose chronological sequence through Mexican history, but they concentrate primarily on the twentieth century and are organized around the following set of themes: pre-Hispanic rituals, colonial festivals, heroes, consumer goods, photography, paintings, print culture, mass media, culinary practices, sporting events, and migration to both the United States and Canada.
Keywords
mexico,
popular culture,
cultural history
Citation Information
Jason Dyck. "HIS389H (Mexican Popular Culture)"
Mexican Popular Culture
(2017)
Available at: http://works.bepress.com/jason-dyck/27/