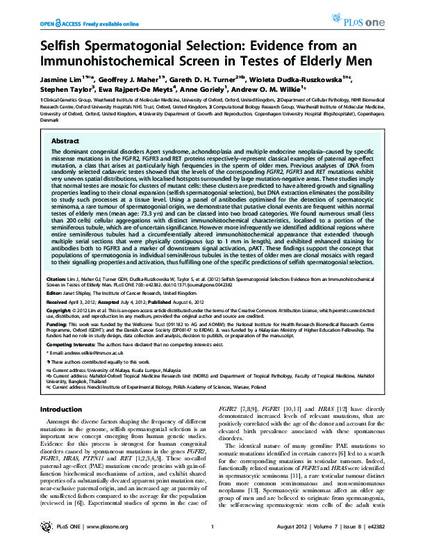 Article
Selfish Spermatogonial Selection: Evidence from an Immunohistochemical Screen in Testes of Elderly Men
Plos One (2012)
Abstract
The dominant congenital disorders Apert syndrome, achondroplasia and multiple endocrine neoplasia–caused by specific missense mutations in the FGFR2, FGFR3 and RET proteins respectively–represent classical examples of paternal age-effect mutation, a class that arises at particularly high frequencies in the sperm of older men. Previous analyses of DNA from randomly selected cadaveric testes showed that the levels of the corresponding FGFR2, FGFR3 and RET mutations exhibit very uneven spatial distributions, with localised hotspots surrounded by large mutation-negative areas. These studies imply that normal testes are mosaic for clusters of mutant cells: these clusters are predicted to have altered growth and signalling properties leading to their clonal expansion (selfish spermatogonial selection), but DNA extraction eliminates the possibility to study such processes at a tissue level. Using a panel of antibodies optimised for the detection of spermatocytic seminoma, a rare tumour of spermatogonial origin, we demonstrate that putative clonal events are frequent within normal testes of elderly men (mean age: 73.3 yrs) and can be classed into two broad categories. We found numerous small (less
than 200 cells) cellular aggregations with distinct immunohistochemical characteristics, localised to a portion of the seminiferous tubule, which are of uncertain significance. However more infrequently we identified additional regions where entire seminiferous tubules had a circumferentially altered immunohistochemical appearance that extended through multiple serial sections that were physically contiguous (up to 1 mm in length), and exhibited enhanced staining for antibodies both to FGFR3 and a marker of downstream signal activation, pAKT. These findings support the concept that populations of spermatogonia in individual seminiferous tubules in the testes of older men are clonal mosaics with regard to their signalling properties and activation, thus fulfilling one of the specific predictions of selfish spermatogonial selection.
Keywords
paternal age-effect mutation,
spermatogonia,
spermatocytic seminoma,
MAGEA4,
oct2,
FGFR2,
FGFR3,
RET
Publication Date
Summer August 6, 2012
DOI
10.1371/journal.pone.0042382
Citation Information
jasmine Lim. "Selfish Spermatogonial Selection: Evidence from an Immunohistochemical Screen in Testes of Elderly Men"
Plos One
(2012)
Available at: http://works.bepress.com/jasmine-lim/4/