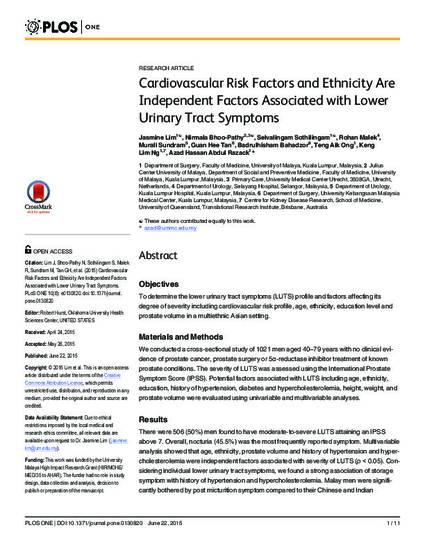 Article
Cardiovascular risk factors and ethnicity are independent factors associated with lower urinary tract symptoms
Plos One (2015)
Abstract
Objectives
To determine the lower urinary tract symptoms (LUTS) profile and factors affecting its degree of severity including cardiovascular risk profile, age, ethnicity, education level and prostate volume in a multiethnic Asian setting.
Materials and Methods
We conducted a cross-sectional study of 1021 men aged 40 – 79 years with no clinical evidence of prostate cancer, prostate surgery or 5α-reductase inhibitor treatment of known prostate conditions. The severity of LUTS was assessed using the International Prostate Symptom Score (IPSS). Potential factors associated with LUTS including age, ethnicity, education, history of hypertension, diabetes and hypercholesterolemia, height, weight, and prostate volume were evaluated using univariable and multivariable analyses.
Results
There were 506 (50%) men found to have moderate-to-severe LUTS attaining an IPSS above 7. Overall, nocturia (45.5%) was the most frequently reported symptom. Multivariable analysis showed that age, ethnicity, prostate volume and history of hypertension and hypercholesterolemia were independent factors associated with severity of LUTS (
p
< 0.05). Considering individual lower urinary tract symptom, we found a strong association of storage symptom with history of hypertension and hypercholesterolemia. Malay men were significantly bothered by post micturition symptom compared to their Chinese and Indian counterparts. Stratified analyses of LUTS demonstrated a mutually exclusive cardiovascular risk factors profile defined by ethnicity.
Conclusion
Severity of LUTS varies between different ethnicities across all age groups. In addition to age and prostate volume, ethnicity and cardiovascular risk factors including hypertension and hypercholesterolemia may also need to be taken into account in managing men with LUTS.
Keywords
lower urinary tract symptoms; post micturition symptoms; voiding symptoms; storage symptoms; ethnicity; hypertension; hypercholesterolemia; prostate volume; Asia
Publication Date
Summer June 22, 2015
DOI
10.1371/journal.pone.0130820
Citation Information
jasmine Lim. "Cardiovascular risk factors and ethnicity are independent factors associated with lower urinary tract symptoms"
Plos One
(2015)
Available at: http://works.bepress.com/jasmine-lim/2/