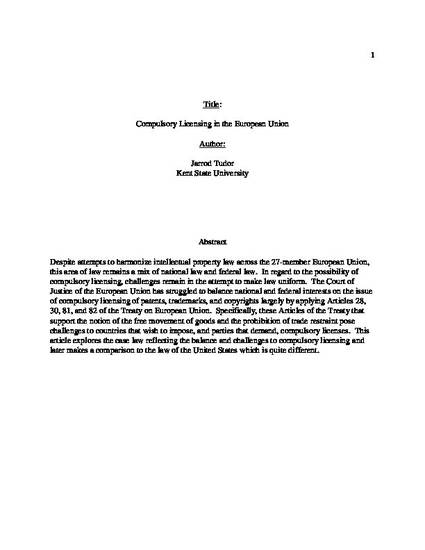 Unpublished Paper
Compulsory Licensing in the European Union
ExpressO (2012)
Abstract
Despite attempts to harmonize intellectual property law across the 27-member European Union, this area of law remains a mix of national law and federal law. In regard to the possibility of compulsory licensing, challenges remain in the attempt to make law uniform. The Court of Justice of the European Union has struggled to balance national and federal interests on the issue of compulsory licensing of patents, trademarks, and copyrights largely by applying Articles 28, 30, 81, and 82 of the Treaty on European Union. Specifically, these Articles of the Treaty that support the notion of the free movement of goods and the prohibition of trade restraint pose challenges to countries that wish to impose, and parties that demand, compulsory licenses. This article explores the case law reflecting the balance and challenges to compulsory licensing and later makes a comparison to the law of the United States which is quite different.
Keywords
compulsory licensing,
licensing intellectual property,
licensing,
European Union
Publication Date
September 23, 2012
Citation Information
Jarrod Tudor. "Compulsory Licensing in the European Union"
ExpressO
(2012)
Available at: http://works.bepress.com/jarrod_tudor/1/