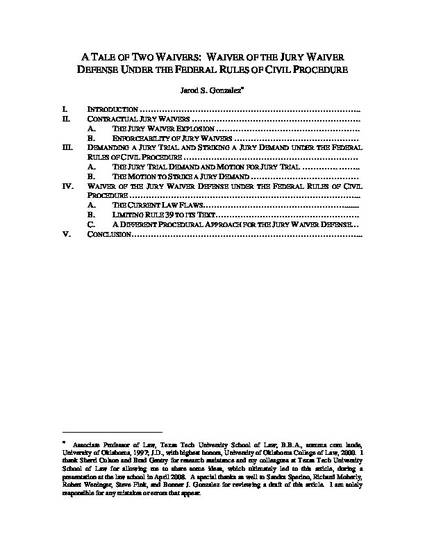 Unpublished Paper
A TALE OF TWO WAIVERS: WAIVER OF THE JURY WAIVER DEFENSE UNDER THE FEDERAL RULES OF CIVIL PROCEDURE
ExpressO (2008)
Abstract
There is an extensive amount of academic commentary on the enforceability of pre-dispute contractual jury waivers. My article, entitled A Tale of Two Waivers: Waiver of the Jury Waiver Defense under the Federal Rules of Civil Procedure, considers a related topic that has not received much scholarly attention: the procedure for raising a jury waiver defense in federal civil litigation. Specifically, I advocate a novel approach that treats a contractual jury waiver defense as an affirmative defense under Rule 8 of the Federal Rules of Civil Procedure. The affirmative defense approach requires a party that desires to strike a jury demand on the basis of a pre-dispute contractual jury waiver to plead the waiver as an affirmative defense and then move to strike the jury demand after discovery has been conducted on the merits of the defense. Under this approach, the waiver issue must be raised early on in the pre-trial litigation process and determined expeditiously by the courts. Under the current approach, a party may raise the jury waiver challenge for the first time on the eve of trial or even during the trial itself, which is very problematic. As far as I know, this is the first scholarly piece to advocate a departure from the current approach and my arguments are novel.
Keywords
jury waiver,
civil procedure,
affirmative defense
Publication Date
July 30, 2008
Citation Information
Jarod S. Gonzalez. "A TALE OF TWO WAIVERS: WAIVER OF THE JURY WAIVER DEFENSE UNDER THE FEDERAL RULES OF CIVIL PROCEDURE"
ExpressO
(2008)
Available at: http://works.bepress.com/jarod_gonzalez/3/