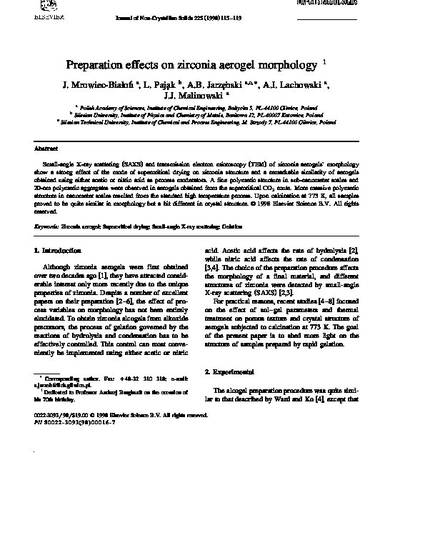 Article
Preparation effects on zirconia aerogel morphology
J. Non-Cryst. Solids (1998)
Abstract
Small-angle X-ray scattering (SAXS) and transmission electron microscopy (TEM) of zirconia aerogels' morphology show a strong effect of the mode of supercritical drying on zirconia structure and a remarkable similarity of aerogels obtained using either acetic or nitric acid as process moderators. A fine polymeric structure in sub-nanometer scales and 20-nm polymeric aggregates were observed in aerogels obtained from the supercritical CO2 route. More massive polymeric structure in nanometer scales resulted from the standard high temperature process. Upon calcination at 773 K, all samples proved to be quite similar in morphology but a bit different in crystal structure.
Citation Information
J. Mrowiec-Bialon, L. Pajak, A. B. Jarzebski, A I. Lachowski, J. J. Malinowski "Preparation effects on zirconia aerogel morphology" J. Non-Cryst. Solids 225 (1998): 115-119.