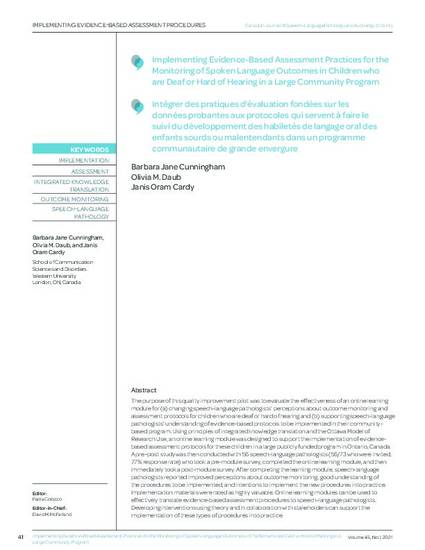 Article
Implementing Evidence-Based Assessment Practices for the Monitoring of Spoken Language Outcomes in Children who are Deaf or Hard of Hearing in a Large Community Program
Canadian Journal of Speech-Language Pathology and Audiology
Publication Date
1-1-2021
Abstract
The purpose of this quality improvement pilot was to evaluate the effectiveness of an online learning module for (a) changing speech-language pathologists' perceptions about outcome monitoring and assessment protocols for children who are deaf or hard of hearing and (b) supporting speech-language pathologists' understanding of evidence-based protocols to be implemented in their community-based program. Using principles of integrated knowledge translation and the Ottawa Model of Research Use, an online learning module was designed to support the implementation of evidence-based assessment protocols for these children in a large publicly funded program in Ontario, Canada. A pre–post study was then conducted with 56 speech-language pathologists (56/73 who were invited, 77% response rate) who took a pre-module survey, completed the online learning module, and then immediately took a post-module survey. After completing the learning module, speech-language pathologists reported improved perceptions about outcome monitoring, good understanding of the procedures to be implemented, and intentions to implement the new procedures into practice. Implementation materials were rated as highly valuable. Online learning modules can be used to effectively translate evidence-based assessment procedures to speech-language pathologists. Developing interventions using theory and in collaboration with stakeholders can support the implementation of these types of procedures into practice.
Citation Information
Barbara Jane Cunningham, Janis Oram Cardy and Olivia Daub. "Implementing Evidence-Based Assessment Practices for the Monitoring of Spoken Language Outcomes in Children who are Deaf or Hard of Hearing in a Large Community Program"
Canadian Journal of Speech-Language Pathology and Audiology
Vol. Volume 45 Iss. No.1 (2021) p. 41 - 58
Available at: http://works.bepress.com/janis-cardy/17/