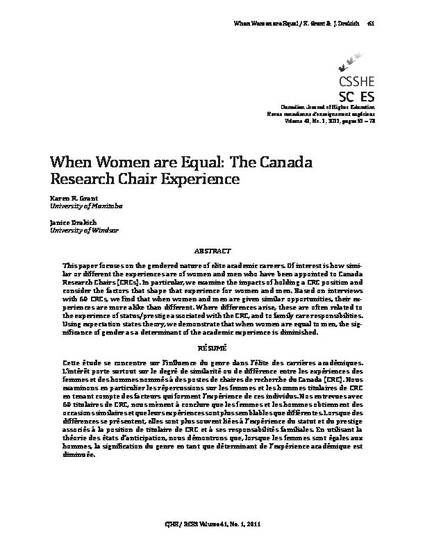 Article
When Women are Equal: The Canada Research Chair Experience
Canadian Journal of Higher Education
Publication Date
1-1-2011
Abstract
This paper focuses on the gendered nature of elite academic careers. Of interest is how similar or diff erent the experiences are of women and men who have been appointed to Canada Research Chairs (CRCs). In particular, we examine the impacts of holding a CRC position and consider the factors that shape that experience for women and men. Based on interviews with 60 CRCs, we find that when women and men are given similar opportunities, their experiences are more alike than diff erent. Where diff erences arise, these are often related to the experience of status/prestige associated with the CRC, and to family care responsibilities. Using expectation states theory, we demonstrate that when women are equal to men, the significance of gender as a determinant of the academic experience is diminished.
Citation Information
Janice Drakich and Karen R. Grant. "When Women are Equal: The Canada Research Chair Experience"
Canadian Journal of Higher Education
Vol. 41 Iss. 1 (2011) p. 61 - 73
Available at: http://works.bepress.com/janice_drakich/1/