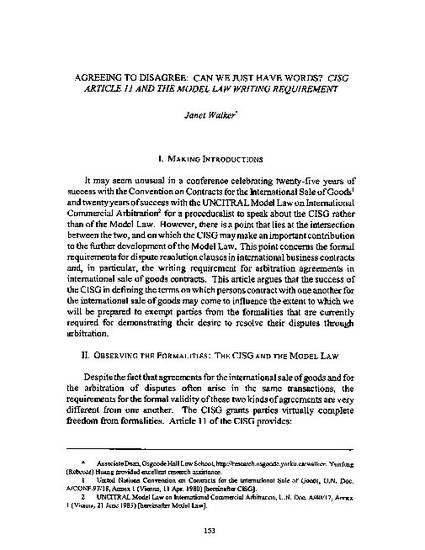 Article
Agreeing to Disagree: Can We Just Have Words?, CISG Article 11 and the Model Law Writing Requirement
Journal of Law and Commerce. Volume 25, Number 1 (2005), p. 153-165.
Publication Date
1-1-2005
Keywords
international commercial arbitration,
international sale of goods
Abstract
The success of the CISG in defining the terms by which businesspersons enter into international sales contracts could one day warrant a shift in the presumption against arbitration in the attendant dispute resolution.
Creative Commons License
Creative Commons Attribution-Noncommercial-No Derivative Works 4.0
Citation Information
Walker, Janet. "Agreeing to Disagree: Can We Just Have Words?, CISG Article 11 and the Model Law Writing Requirement."
Journal of Law and Commerce
25.1 (2005): 153-165.