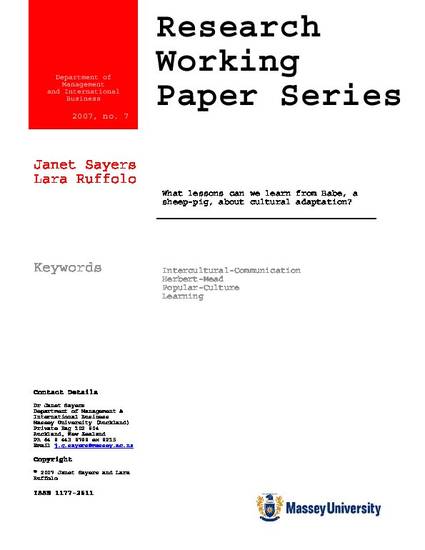 Unpublished Paper
What lessons can we learn from Babe, a sheep-pig,
Department of Management and International Business, Research Working Paper Series (2007)
Abstract
This paper provides an example of a movie that can provide lessons on successful intercultural communication. Babe provides us with a rich resource for the examination of the process of change and its pitfalls too. In addition we can see a great deal about what we would wish intercultural contact to mean for our communities, and this can provide a provocative and useful start to a discussion about intercultural issues and the development of intercultural skills. We hope that our reading of the movie presented here provides a platform for discussion and debate, not necessarily about the movie (this is obviously not a definitive reading as there can never be just one of those), which we have both found to be delightful and have enjoyed watching again several times with our children, but about the nature of intercultural adaptation, its triumphs and its difficulties.
Keywords
inter-cultural communication,
cross-cultural communication,
culture,
popular culture,
management learning
Citation Information
Janet G Sayers and Lara Ruffolo. "What lessons can we learn from Babe, a sheep-pig,"
Department of Management and International Business, Research Working Paper Series
(2007)
Available at: http://works.bepress.com/janet_sayers/2/