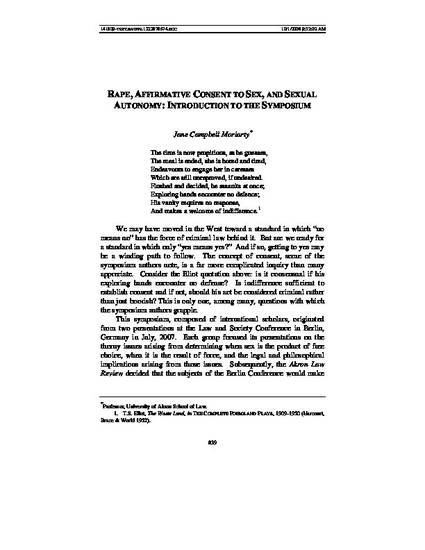 Article
Rape, Affirmative Consent to Sex, and Sexual Autonomy: Introduction to the Symposium
Akron Law Review (2008)
Abstract
We may have moved in the West toward a standard in which "no means no" has the force of criminal law behind it. But are we ready for a standard in which only "yes means yes?" And if so, getting to yes may be a winding path to follow. The concept of consent, some of the symposium authors note, is a far more complicated inquiry than many appreciate. Consider the Eliot quotation above: is it consensual if his exploring hands encounter no defense? Is indifference sufficient to establish consent and if not, should his act be considered criminal rather than just boorish? This is only one, among many, questions with which the symposium authors grapple.
Citation Information
Jane Moriarty, Rape,
Affirmative Consent to Sex, and Sexual Autonomy: Introduction to the Symposium
, 41
Akron Law Review
839 (2008).