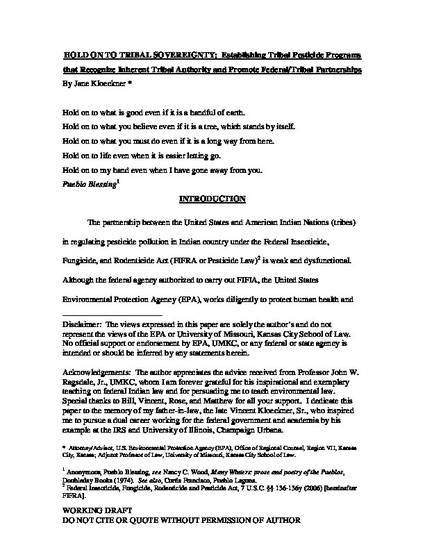 Unpublished Paper
HOLD ON TO TRIBAL SOVEREIGNTY: Establishing Tribal Pesticide Programs that Recognize Inherent Tribal Authority and Promote Federal/Tribal Partnerships
ExpressO (2011)
Abstract
The partnership between the United States and Indian Nations (tribes) in regulating pesticide pollution in Indian country that is governed by the Federal Insecticide, Fungicide, and Rodenticide Act (FIFRA or Pesticide Law) has become dysfunctional due to weak provisions in FIFRA and pesticide regulations and guidance from the United States Environmental Protection Agency (EPA), the federal agency authorized to implement FIFIA. The tribal/federal partnership under FIFRA is overwhelmingly federal, while the role for tribal governments is limited. EPA conducts all FIFRA enforcement actions and allows tribes a limited role to cooperate in outreach and enforcement.
Federal laws and regulations should support environmental institution building by tribal governments, distinguish the multi-dimensionality of Indian people and cultures, and acknowledge the value that Indian people place on land without limitations that stereotype individual Indians or tribal life-ways. Such things are the hallmark of a genuine federal/tribal partnership. Improving the federal/tribal partnership by authorizing more tribal certification programs for pesticide applicators and primacy for tribal governments could incidentally enhance non-Indian cultures by teaching individuals, such as pesticide applicators, about diverse tribal life-ways that would better protect human health, the land, and the environment in Indian country from pesticide exposures.
Keywords
pesticides,
Federal Indian Law,
Environmental Protection,
FIFRA
Citation Information
Jane Kloeckner. "HOLD ON TO TRIBAL SOVEREIGNTY: Establishing Tribal Pesticide Programs that Recognize Inherent Tribal Authority and Promote Federal/Tribal Partnerships"
ExpressO
(2011)
Available at: http://works.bepress.com/jane_kloeckner/1/