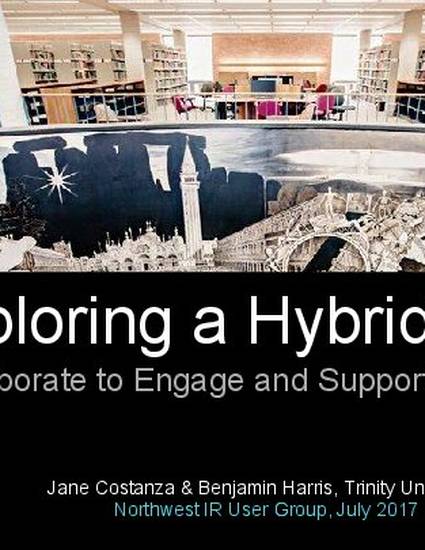 Presentation
Exploring a Hybrid Model to Develop the IR: Liaisons and Functional Specialists Collaborate to Engage and Support Scholarship
Northwest IR User Group
Presentation Type
Panel Discussion
Program Description
Smaller institutions may not have full-time dedicated positions to provide technical support and campus engagement for their IR, therefore alternative strategies to grow a program supporting institutional scholarship may be necessary. For example, at Trinity University we do not have a Scholarly Communication Librarian or a dedicated IR Manager, but instead, depend on the collaboration of liaisons and technical services staff to engage and support institutional scholarship.
At Trinity, our low librarian-to-faculty ratio means that we have strong liaison relationships with our academic departments. While librarians at Trinity locate and create opportunities to communicate with students and teachers about digital scholarship, we also make referrals to colleagues with more specialized technical expertise in IR management or copyright in order to use our time and our resources in creative and effective ways. Rather than make the advancement of digital scholarship programs in our library and institution a province of one department or a specified group of individuals, technical and public services focus on what we each "do best" to support the work of students and faculty but we also work together to achieve our goals.
This model has proved beneficial for engaging and supporting scholars on campus. However, this model can also surface tensions between liaisons and their specialist colleagues. This hybrid model of liaisons and functional specialists requires effective collaboration as well as a strong referral system.
In this case-study presentation, the Head of Discovery Services and the Head of Instruction Services will offer specific examples and evidence of the ways that technical services and liaisons work together to drive the library's and the university's digital scholarship initiatives. Essential factors in facilitating this work will also be considered.
Start Date
21-7-2017 9:20 AM
End Date
21-7-2017 9:40 AM
Persistent Identifier
http://archives.pdx.edu/ds/psu/20666
Citation Information
Jane Costanza and Benjamin R Harris. "Exploring a Hybrid Model to Develop the IR: Liaisons and Functional Specialists Collaborate to Engage and Support Scholarship" (2017)
Available at: http://works.bepress.com/jane_costanza/16/