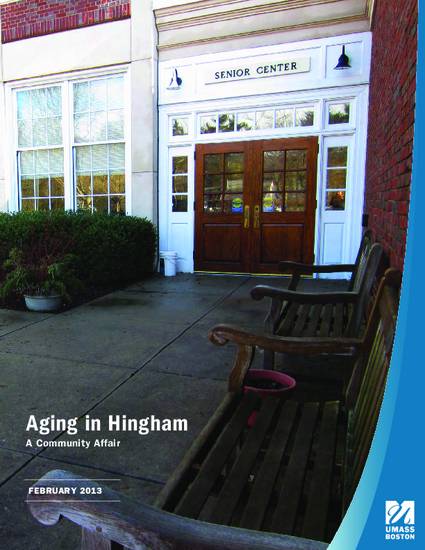 Article
Aging in Hingham: A Community Affair
Gerontology Institute Publications
Document Type
Research Report
Publication Date
2-1-2013
Abstract
The purpose of this needs assessment is to investigate the needs, interests, and opinions of mature residents of Hingham, Massachusetts, relating to their aging experiences and needs for age-related services. This assessment was undertaken by the Gerontology Institute of the McCormack Graduate School at UMass Boston on behalf of the Town of Hingham Department of Elder Services (hereinafter referred to as the Department of Elder Services). The focus of this report is on Hingham residents aged 60+ (referred to here as "Seniors") and residents aged 45-59 (referred to here as "Boomers"). Information about these two age groups was obtained both through the U.S. Census Bureau, and through a sample survey designed and conducted in support of this project. Two focus groups were conducted to obtain feedback on the survey results and generate recommendations. Key informant interviews with six Town officials and community leaders were conducted to provide expert input on the implications of the aging population for the Town as a whole, and the functioning of the Department of Elder Services. The content of this report is intended to be useful to the Department of Elder Services, other Town offices, and organizations that provide services within Hingham, advocates, and community members.
Community Engaged/Serving
No, this is not community-engaged.
Citation Information
Jan Mutchler, Caitlin Coyle and Hayley Gravette. "Aging in Hingham: A Community Affair" (2013)
Available at: http://works.bepress.com/jan_mutchler/17/