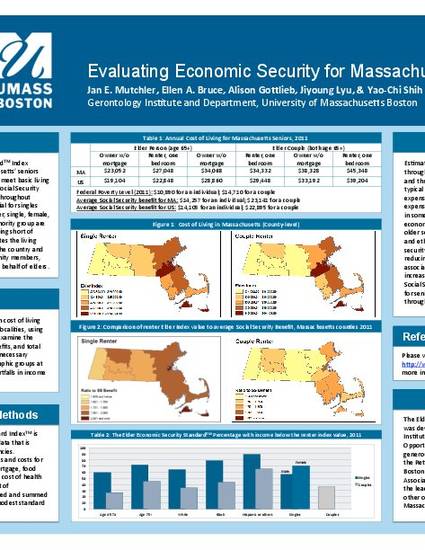 Presentation
Evaluating Economic Security for Massachusetts Seniors
Office of Community Partnerships Posters
Document Type
Presentation
Publication Date
4-5-2012
Abstract
The Elder Economic Security Standard Index measures the income that Massachusetts' seniors need to maintain independence and meet basic living expenses. The sizable gap between Social Security benefits and living expenses occurs throughout Massachusetts, but is more substantial for singles than for couples. Those who are older, single, female or a member of a racial or ethnic minority group are exposed to especially high risk of falling short of Index values. The Elder Index estimates the living costs for seniors in every locality in the country and serves as a valuable tool for community members, policy makers, and those working on behalf of elders.
Community Engaged/Serving
No, this is not community-engaged.
Citation Information
Jan Mutchler, Ellen A. Bruce, Alison Gottlieb, Jiyoung Lyu, et al.. "Evaluating Economic Security for Massachusetts Seniors" (2012)
Available at: http://works.bepress.com/jan_mutchler/16/