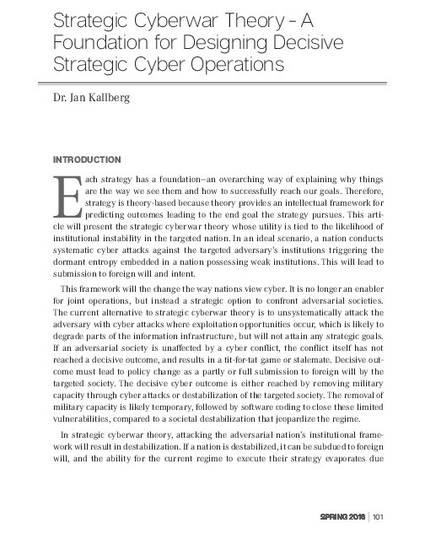 Article
Strategic Cyberwar Theory - A Foundation for Designing Decisive Strategic Cyber Operations
1 (2016)
Abstract
Traditional military theory applied in cyber struggles with four challenges – anonymity, object permanence, measurable results, and rapid digital execution. In a Clausewitzian world, these challenges were non-existent. The enemy was clearly marked, the battle field was fixed, the results of the battle was visible, and it occurred not at computational speed but instead in a pace that allowed human leadership to act. Traditional military thinking does not support decisive action in a future nation state cyber conflict. The utility of cyber attacks is dependent on the institutional design of the targeted society. Strategic cyberwar theory utilizes 'Occam's Razor' to focus on the targeted state's core functionality in the pursuit of destabilization and acceptance of foreign will.
Publication Date
Spring April 15, 2016
Citation Information
Jan Kallberg. "Strategic Cyberwar Theory - A Foundation for Designing Decisive Strategic Cyber Operations"
1
(2016)
Available at: http://works.bepress.com/jan_kallberg/32/