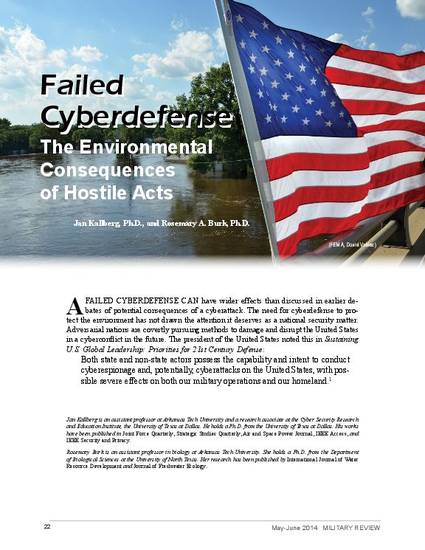 Article
Failed Cyberdefense - The Environmental Consequences of Hostile Acts
Military Review (2014)
Abstract
A failed cyberdefense can have wider effects than discussed in earlier debates of potential consequences of a cyberattack. The need for cyberdefense to protect the environment has not drawn the attention it deserves as a national security matter. Adversarial nations are covertly pursuing methods to damage and disrupt the United States in a cyberconflict in the future. The president of the United States noted this in Sustaining U.S. Global Leadership: Priorities for 21st Century Defense: Both state and non-state actors possess the capability and intent to conduct cyberespionage and, potentially, cyberattacks on the United States, with possible severe effects on both our military operations and our homeland.
Keywords
cyber,
cyberdefense,
cybersecurity,
environment,
hazards
Publication Date
Summer May 5, 2014
Citation Information
Jan Kallberg and Rosemary A. Burk. "Failed Cyberdefense - The Environmental Consequences of Hostile Acts"
Military Review
Vol. 2014 Iss. May-June (2014)
Available at: http://works.bepress.com/jan_kallberg/23/