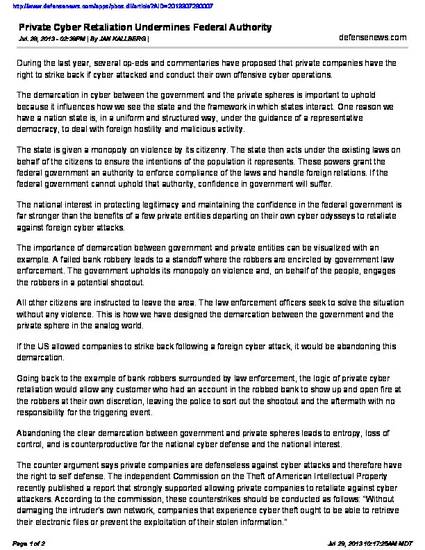 Popular Press
Private Cyber Retaliation Undermines Federal Authority
Defense News (2013)
Abstract
The demarcation in cyber between the government and the private spheres is important to uphold because it influences how we see the state and the framework in which states interact. One reason we have a nation state is, in a uniform and structured way, under the guidance of a representative democracy, to deal with foreign hostility and malicious activity.
The state is given a monopoly on violence by its citizenry. The state then acts under the existing laws on behalf of the citizens to ensure the intentions of the population it represents. These powers grant the federal government an authority to enforce compliance of the laws and handle foreign relations. If the federal government cannot uphold that authority, confidence in government will suffer.
Publication Date
July 29, 2013
Citation Information
Jan Kallberg. "Private Cyber Retaliation Undermines Federal Authority"
Defense News
Vol. Guest Column (2013)
Available at: http://works.bepress.com/jan_kallberg/16/