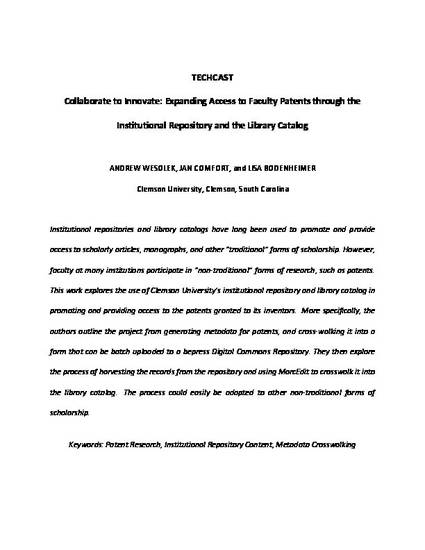 Article
Collaborate to Innovate: Expanding Access to Faculty Patents through the Institutional Repository and the Library Catalog
Journal of Collection Management
Publication Date
11-1-2015
Publisher
Taylor and Francis
Abstract
Institutional repositories and library catalogs have long been used to promote and provide access to scholarly articles, monographs, and other "traditional" forms of scholarship. However, faculty at many institutions participate in "non-traditional" forms of research, such as patents. This work explores the use of Clemson University's institutional repository and library catalog in promoting and providing access to the patents granted to its inventors. More specifically, the authors outline the project from generating metadata for patents, and cross-walking it into a form that can be batch uploaded to a bepress Digital Commons Repository. They then explore the process of harvesting the records from the repository and using MarcEdit to crosswalk it into the library catalog. The process could easily be adapted to other non-traditional forms of scholarship.
Citation Information
Andrew Wesolek, Jan Comfort and Lisa Bodenheimer. "Collaborate to Innovate: Expanding Access to Faculty Patents through the Institutional Repository and the Library Catalog"
Journal of Collection Management
Vol. 40 Iss. 4 (2015)
Available at: http://works.bepress.com/jan_comfort/24/