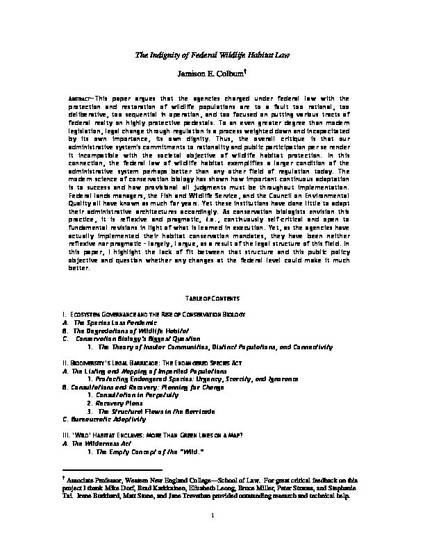 Article
The Indignity of Federal Wildlife Habitat Law
Alabama Law Review (2005)
Abstract
In this article, I argue that the agencies charged under federal law with the protection of wildlife populations are, to a fault, too rational, too deliberate, too sequential in operation, and too focused on putting various tracts of federal realty on highly protective pedestals. My overall critique is that our administrative system's commitments to rationality and public participation per se render it an ineffective means to the end of wildlife habitat protection. Conservation biologists have agreed time and again how important continuous adaptation is to success in this field and how necessary it is to keep all high stakes judgments provisional. Yet the institutions of our federal law of wildlife habitat have done little to adapt themselves accordingly. I conclude that few improvements that are feasible at the federal level have not yet at least been attempted and conjecture that little can be done to radically improve the federal law of wildlife habitat as presently practiced.
Publication Date
December, 2005
Citation Information
Jamison E. Colburn. "The Indignity of Federal Wildlife Habitat Law"
Alabama Law Review
Vol. 57 (2005)
Available at: http://works.bepress.com/jamisoncolburn/5/