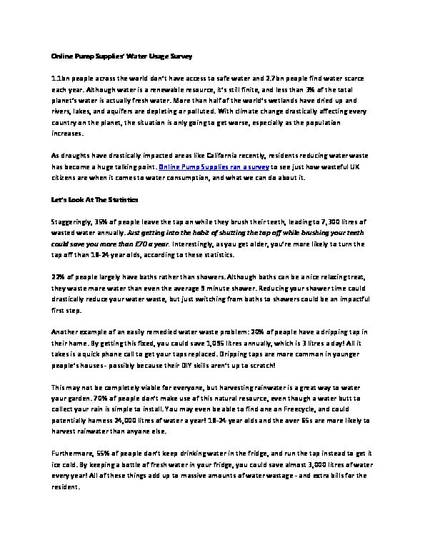 Article
Online Pump Supplies' Water Usage Survey
Online Pump Supplies' Water Usage Survey (2014)
Abstract
1.1bn people across the world don't have access to safe water and 2.7bn people find water scarce each year. Although water is a renewable resource, it's still finite, and less than 3% of the total planet's water is actually fresh water. More than half of the world's wetlands have dried up and rivers, lakes, and aquifers are depleting or polluted. With climate change drastically affecting every country on the planet, the situation is only going to get worse, especially as the population increases.
Publication Date
Winter December 26, 2014
Citation Information
Jamie Knop. "
Online Pump Supplies
' Water Usage Survey" Online Pump Supplies' Water Usage Survey (2014). Available at: http://works.bepress.com/jamie_knop/3