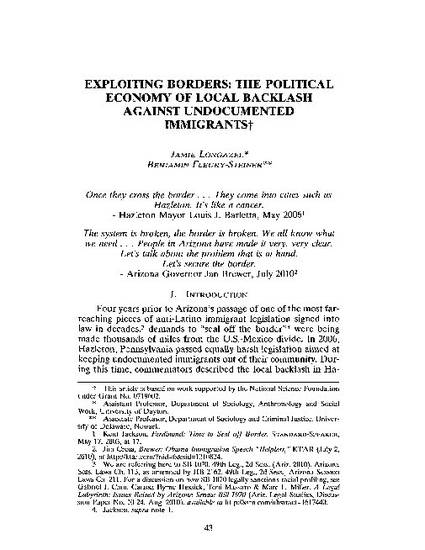 Article
Exploiting Borders: The Political Economy of Local Backlash against Undocumented Immigrants
Chicana/o-Latina/o Law Review
Publication Date
1-1-2011
Abstract
Four years prior to Arizona's passage of one of the most far-reaching pieces of anti-Latino immigrant legislation signed into law in decades,3 demands to "seal off the border"4 were being made thousands of miles from the U.S.-Mexico divide. In 2006, Hazleton, Pennsylvania, passed equally harsh legislation aimed at keeping undocumented immigrants out of their community. During this time, commentators described the local backlash in Hazleton and other small cities across the United States as akin to "the opening of a deep and profound fissure in the American landscape" 5 wherein "all immigration politics is local." 6 Yet, as the so-called "immigration problem" returns to its point of origin and the actual U.S.-Mexico border reclaims its place as the popular political referent from the more imaginary yet equally racialized borders of homogeneous interior cities, it appears that neither the Arizona law nor previous local-level legislation represent a "new" trend but rather an intensification of America's growing anti-Latino immigrant backlash.
Document Version
Published Version
Copyright
Copyright © 2011, Chicana/o-Latina/o Law Review
Publisher
Chicana/o-Latina/o Law Review
Citation Information
Jamie Longazel and Benjamin Fleury-Steiner. "Exploiting Borders: The Political Economy of Local Backlash against Undocumented Immigrants"
Chicana/o-Latina/o Law Review
Vol. 30 (2011)
Available at: http://works.bepress.com/jamie-longazel/5/