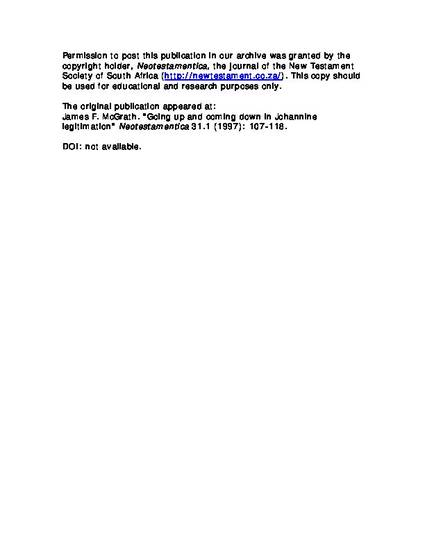 Article
Going up and coming down in Johannine legitimation
Neotestimentica
Publication Date
1-1-1997
Additional Publication URL
http://newtestament.co.za/neotestamentica.html
Abstract
In his study of Johannine christology Wayne Meeks stressed the importance of understanding the ascent·descent schema in any attempt to understand this christology or explain its origin. The work of sociologists Berger and Luckmann on legitimation has the potential to shed light on an ear her stage in this development. Key passages in John show that ascent-descent language is linked to the motifs of the Son of man and wisdom, and suggest that John has developed these two traditional aspects of christology in response to objections and conflict over Jesus' qualifications to be the revealer, and his relationship to God and monotheism. Conflict and the ensuing legitimation can thus help us to understand something of the reason why Johannine christology developed along the distinctive path that it did.
Citation Information
James F McGrath. "Going up and coming down in Johannine legitimation"
Neotestimentica
Vol. 31 Iss. 1 (1997) p. 107 - 118
Available at: http://works.bepress.com/jamesmcgrath/20/