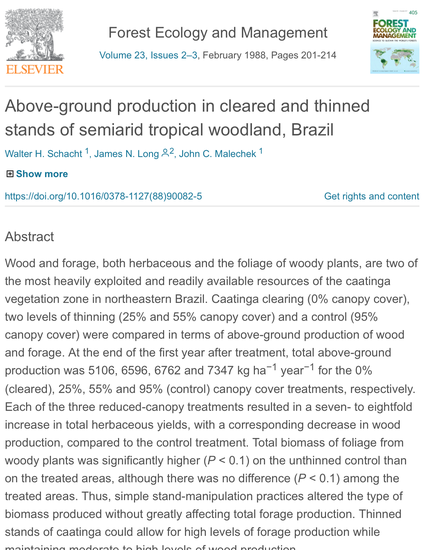 Article
Above-ground production in cleared and thinned stands of semiarid tropical woodland, Brazil
Forest Ecology and Management (1988)
Abstract
Wood and forage, both herbaceous and the foliage of woody plants, are two of the most heavily exploited and readily available resources of the caatinga vegetation zone in northeastern Brazil. Caatinga clearing (0% canopy cover), two levels of thinning (25% and 55% canopy cover) and a control (95% canopy cover) were compared in terms of above-ground production of wood and forage. At the end of the first year after treatment, total above-ground production was 5106, 6596, 6762 and 7347 kg ha−1 year−1 for the 0% (cleared), 25%, 55% and 95% (control) canopy cover treatments, respectively...
Publication Date
February, 1988
Citation Information
John C. Malechek, Walter H. Schacht and James N. Long. "Above-ground production in cleared and thinned stands of semiarid tropical woodland, Brazil"
Forest Ecology and Management
Vol. 23 Iss. 2-3 (1988)
Available at: http://works.bepress.com/jameslong/7/