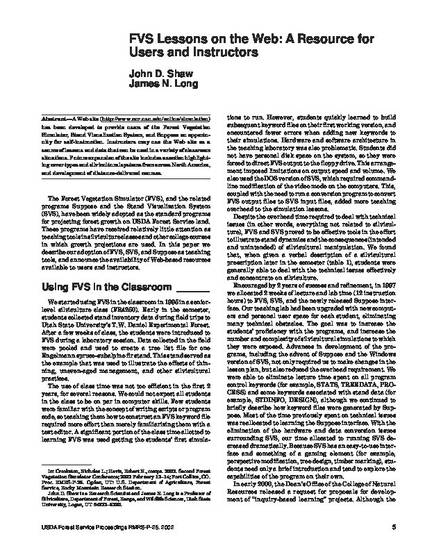 Contribution to Book
FVS Lessons on the Web: A Resource for Users and Instructors
Second Forest Vegetation Simulator Conference; 2002 February 12–14; Fort Collins, CO. Proc. RMRS-P-25 (2002)
Abstract
A Web site (http://www.cnr.usu.edu/online/simulation) has been developed to provide users of the Forest Vegetation Simulator, Stand Visualization System, and Suppose an opportu- nity for self-instruction. Instructors may use the Web site as a source of lessons and data that can be used in a variety of classroom situations. Future expansion of the site includes a section highlight- ing cover types and silvicultural systems from across North America, and development of distance-delivered courses. 
Editor
In: Crookston, Nicholas L.; Havis, Robert N.
Publisher
U.S. Department of Agriculture, Forest Service, Rocky Mountain Research Station.
Citation Information
James N. Long and John D Shaw. "FVS Lessons on the Web: A Resource for Users and Instructors" Ogden, Utah
Second Forest Vegetation Simulator Conference; 2002 February 12–14; Fort Collins, CO. Proc. RMRS-P-25
(2002)
Available at: http://works.bepress.com/jameslong/202/