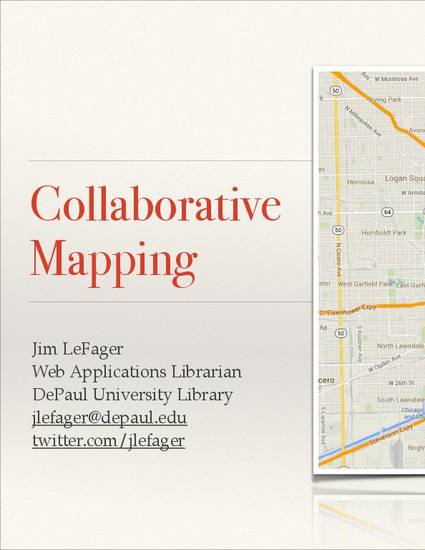 Presentation
Collaborative Mapping
Handheld Librarian 9 (2014)
Abstract
The Mobile Learning Initiative (MoLI) works with faculty members on exploring and designing mobile solutions. A communications faculty member contacted our Mobile Learning Initiative (MoLI) group to explore using a mobile solution for a class activity where students would be able upload images, text, and audio from around the city and display it on a map where others could search and filter the results. Using Google Fusion Tables we were able to setup a method for students to add content, including images, addresses, and details regarding the location that could be filtered and viewed on a Google map. We worked to style the content and info boxes that the students submitted, as well as provided instructions to the students who were in the class on how to use and submit materials to the Fusion Table. Students reacted well to the assignment and this will become an additional solution that our MoLI group will recommend to instructors interested in geotagging projects.
Publication Date
Winter February, 2014
Citation Information
James LeFager. "Collaborative Mapping"
Handheld Librarian 9
(2014)
Available at: http://works.bepress.com/jameslefager/1/