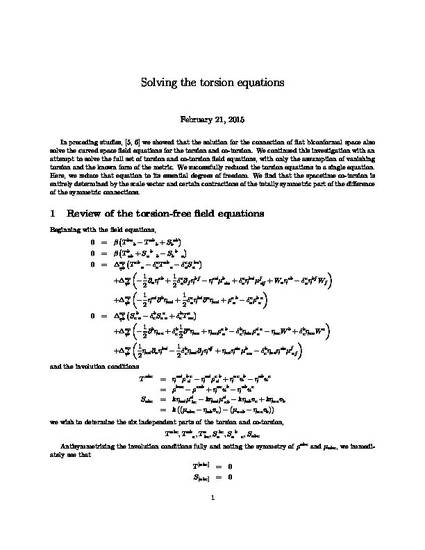 Article
The spacetime co-torsion in torsion-free biconformal spaces
Digital Commons (2015)
Abstract
In preceding studies, [TR Gamma minus, TR Gamma plus] we showed that the solution for the connection of flat biconformal space also solves the curved space field equations for the torsion and co-torsion. We continued this investigation with an attempt to solve the full set of torsion and co-torsion field equations, with only the assumption of vanishing torsion and the known form of the metric. We successfully reduced the torsion equations to a single equation. Here, we reduce that equation to its essential degrees of freedom. We find that the spacetime co-torsion is entirely determined by the scale vector and certain contractions of the totally symmetric part of the difference of the symmetric connections.
Keywords
Biconformal,
conformal,
gauge theory,
gravity,
torsion,
co-torsion
Publication Date
Winter February 9, 2015
Citation Information
James Thomas Wheeler. "The spacetime co-torsion in torsion-free biconformal spaces"
Digital Commons
(2015)
Available at: http://works.bepress.com/james_wheeler/116/