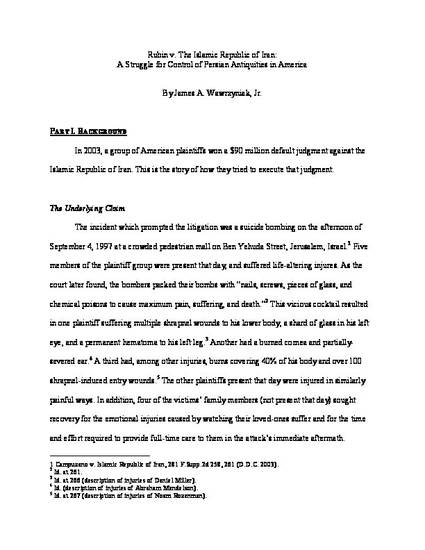 Unpublished Paper
Rubin v. The Islamic Republic of Iran - A Struggle for Control of Persian Antiquities in America
ExpressO (2007)
Abstract
This paper analyzes the multi-jurisdictional attachment and execution proceedings taking place sub nomine Rubin v. The Islamic Republic of Iran. The Rubin litigation raises novel issues in the areas of art law and foreign relations. The first section of the paper evaluates whether third parties have standing to raise a sovereign state's immunity under the Foreign Sovereign Immunities Act ("FSIA"). The second delves into the particulars of the commercial use exception to the FSIA. The final section considers various provisions of the Terrorism Risk Insurance Act of 2001, a new law with little judicial gloss. These three main issues are evaluated within a broader art law framework as historic and valuable Persian antiquities stand at the center of the execution proceedings.
Publication Date
September, 2007
Citation Information
James A Wawrzyniak. "Rubin v. The Islamic Republic of Iran - A Struggle for Control of Persian Antiquities in America"
ExpressO
(2007)
Available at: http://works.bepress.com/james_wawrzyniak/1/