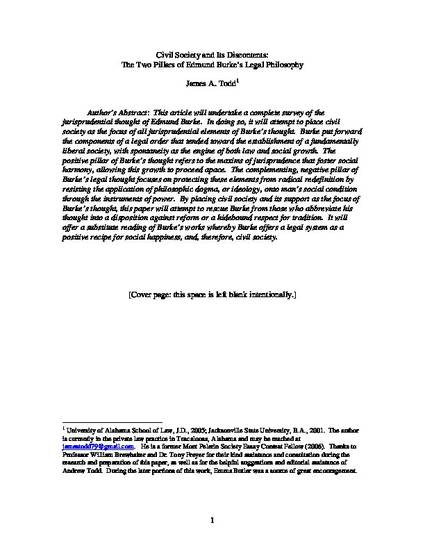 Unpublished Paper
Civil Society and Its Discontents: The Two Pillars of Edmund Burke's Legal Philosophy
ExpressO (2008)
Abstract
Author's Abstract: This article will undertake a complete survey of the jurisprudential thought of Edmund Burke. In doing so, it will attempt to place civil society as the focus of all jurisprudential elements of Burke's thought. Burke put forward the components of a legal order that tended toward the establishment of a fundamentally liberal society, with spontaneity as the engine of both law and social growth. The positive pillar of Burke's thought refers to the maxims of jurisprudence that foster social harmony, allowing this growth to proceed apace. The complementing, negative pillar of Burke's legal thought focuses on protecting these elements from radical redefinition by resisting the application of philosophic dogma, or ideology, onto man's social condition through the instruments of power. By placing civil society and its support as the focus of Burke's thought, this paper will attempt to rescue Burke from those who abbreviate his thought into a disposition against reform or a hidebound respect for tradition. It will offer a substitute reading of Burke's works whereby Burke offers a legal system as a positive recipe for social happiness, and, therefore, civil society.
Keywords
Edmund Burke,
jurisprudence,
liberalism,
conservatism,
civil society
Publication Date
May 14, 2008
Citation Information
James A. Todd. "Civil Society and Its Discontents: The Two Pillars of Edmund Burke's Legal Philosophy"
ExpressO
(2008)
Available at: http://works.bepress.com/james_todd/1/