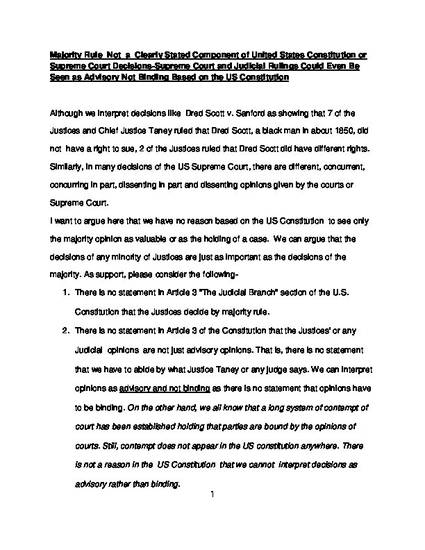 Unpublished Paper
Majority Rule Not a Clearly Stated Component of United States Constitution or Supreme Court Decisions-Supreme Court and Judicial Rulings Could Even Be Seen as Advisory Not Binding Based on the US Constitution
ExpressO (2010)
Abstract
Majority rule may play a role in the election of a president, but the Constitution does not apply such rule to the Supreme Court or other courts in a stated or clear way. Supreme Court decisions may be seen as advisory based on the lack of mention of judicial roles in the US Constitution, but contempt concepts indicate that judicial decisions are supposed to be seen as binding. Many judicial decisions can be seen as advisory, although clearly tradition has seen judicial rulings as binding and enforceable rather than advisory. From the perspective of the US Constitution, we could see the minority opinion of judges or Justices as just as valuable or important as the majority opinion of Justices or judges.Liberte fraternite et egalite could mean that each of us, and each judge writing a minority or majority opinion, have rights and valuable opinions not just judges who write majority or solo opinions.
Keywords
majority,
Supreme Court,
Advisory,
Binding,
Minority,
Dred Scott,
disability,
Bradshaw v. Lucas
Publication Date
January 28, 2010
Citation Information
James T Struck. "Majority Rule Not a Clearly Stated Component of United States Constitution or Supreme Court Decisions-Supreme Court and Judicial Rulings Could Even Be Seen as Advisory Not Binding Based on the US Constitution"
ExpressO
(2010)
Available at: http://works.bepress.com/james_struck/8/