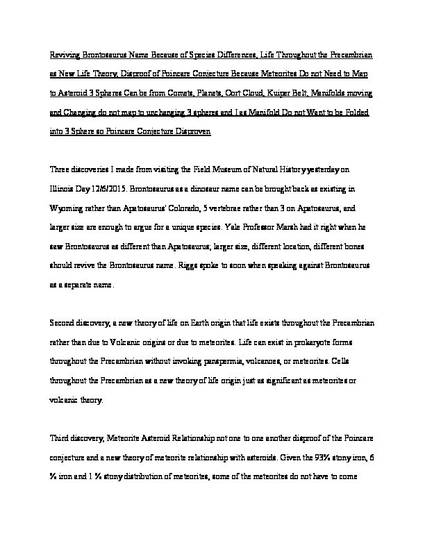 Article
Reviving Brontosaurus Name Because of Species Differences, Life Throoughout the Precambrian as New Life Theory, Disproof of Poincare Conjecture Because Meteorites Do not Need to Map to Asteroid 3 Spheres Can be from Comets, Planets, Oort Cloud, Kuiper Belt, Manifolds changing and moving do not map to unchanging 3 spheres and I as Manifold Do not Want to be Folded into 3 Sphere so Poincare Conjecture Disproven
American Journal Of math, Illinois Journal Of math, Travaux mathematiques, Belgian Journal of Mathematiques (2015)
Abstract
Three discoveries I made from visiting the Field Museum of Natural History yesterday on Illinois Day 12/6/2015. Brontosaurus as a dinosaur name can be brought back as existing in Wyoming rather than Apatosaurus' Colorado, 5 vertebrae rather than 3 on Apatosaurus, and larger size are enough to argue for a unique species. Yale Professor Marsh had it right when he saw Brontosaurus as different than Apatosaurus; larger size, different location, different bones should revive the Brontosaurus name. Riggs spoke to soon when speaking against Brontosaurus as a separate name. Second discovery, a new theory of life on Earth origin that life exists throughout the Precambrian rather than due to Volcanic origins or due to meteorites. Life can exist in prokaryote forms throughout the Precambrian without invoking panspermia, volcanoes, or meteorites. Cells throughout the Precambrian as a new theory of life origin just as significant as meteorites or volcanic theory. Third discovery, Meteorite Asteroid Relationship not one to one another disproof of the Poincare conjecture and a new theory of meteorite relationship with asteroids. Given the 93% stony iron, 6 % iron and 1 % stony distribution of meteorites, some of the meteorites do not have to come from the asteroids. Mapping from meteorites to the asteroids does not have to be one to one. Disproving the Poincare conjecture again, a meteorite which can be seen as a simply connected manifold does not need to map to a 3 sphere of an asteroid or all the asteroids. A European display at the Field Museum of Natural History would not hurt as Europeans might feel a bit left out, but that would not map to a 3 sphere as Europeans are not always 3 spheres giving rise to a one to one map. A meteorite can be produced by a comet, a planet, the Oort cloud, Kuiper belt not necessarily an asteroid so maps between meteorites and asteroids are not one to one. Poincare Conjecture disproved again as simply connected manifold found in a meteorite does not need to map one to one to any asteroid or a particular 3 sphere asteroid. Simply connected manifolds do not need to map to 3 spheres and it would be inaccurate to do that mapping as the relationship between a simply connected manifold meteorite is not one to one to an asteroid. Poincare conjecture disproved as it would have misleading applications in physics and astronomy of pointing to a connection between manifolds and 3 spheres as one to one.As we showed in 2010, manifolds always changing do not map one to one or homeomorphic to 3 spheres as 3 spheres are not always changing.
Keywords
math,
disproof of Poincare,
Brontosaurus,
Life Throughout Precambrian,
Meteorite,
Asteroid
Citation Information
James T Struck. "Reviving Brontosaurus Name Because of Species Differences, Life Throoughout the Precambrian as New Life Theory, Disproof of Poincare Conjecture Because Meteorites Do not Need to Map to Asteroid 3 Spheres Can be from Comets, Planets, Oort Cloud, Kuiper Belt, Manifolds changing and moving do not map to unchanging 3 spheres and I as Manifold Do not Want to be Folded into 3 Sphere so Poincare Conjecture Disproven"
American Journal Of math, Illinois Journal Of math, Travaux mathematiques, Belgian Journal of Mathematiques
(2015)
Available at: http://works.bepress.com/james_struck/65/