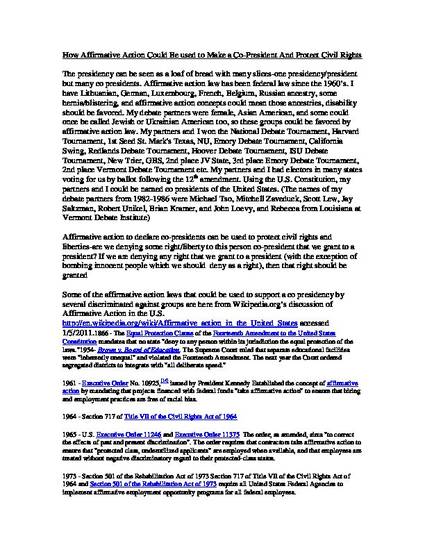 Article
How Affirmative Action Could Be used to Make a Co-President And Protect Civil Rights
submitted to several (2011)
Abstract
How Affirmative Action Could Be used to Make a Co-President And Protect Civil Rights The presidency can be seen as a loaf of bread with many slices-one presidency/president but many co presidents. Affirmative action law has been federal law since the 1960's. I have Lithuanian, German, Luxembourg, French, Belgium, Russian ancestry, some hernia/blistering, and affirmative action concepts could mean those ancestries, disability should be favored. My debate partners were female, Asian American, and some could once be called Jewish or Ukrainian American too, so these groups could be favored by affirmative action law. My partners and I won the National Debate Tournament, Harvard Tournament, 1st Seed St. Mark's Texas, NU, Emory Debate Tournament, California Swing, Redlands Debate Tournament, Hoover Debate Tournament, ISU Debate Tournament, New Trier, GBS, 2nd place JV State, 3rd place Emory Debate Tournament, 2nd place Vermont Debate Tournament etc. My partners and I had electors in many states voting for us by ballot following the 12th amendment. Using the U.S. Constitution, my partners and I could be named co presidents of the United States. (The names of my debate partners from 1982-1986 were Michael Tso, Mitchell Zaveduck, Scott Lew, Jay Saltzman, Robert Unikel, Brian Kramer, and John Loevy, and Rebecca from Louisiana at Vermont Debate Institute) Affirmative action to declare co-presidents can be used to protect civil rights and liberties-are we denying some right/liberty to this person co-president that we grant to a president? If we are denying any right that we grant to a president (with the exception of bombing innocent people which we should deny as a right), then that right should be granted Some of the affirmative action laws that could be used to support a co presidency by several discriminated against groups are here from Wikipedia.org's discussion of Affirmative Action in the U.S. http://en.wikipedia.org/wiki/Affirmative_action_in_the_United_States accessed 1/5/2011.1866 - The Equal Protection Clause of the Fourteenth Amendment to the United States Constitution mandates that no state "deny to any person within its jurisdiction the equal protection of the laws."1954- Brown v. Board of Education. The Supreme Court ruled that separate educational facilities were "inherently unequal" and violated the Fourteenth Amendment. The next year the Court ordered segregated districts to integrate with "all deliberate speed." 1961 - Executive Order No. 10925,[14] issued by President Kennedy Established the concept of affirmative action by mandating that projects financed with federal funds "take affirmative action" to ensure that hiring and employment practices are free of racial bias. 1964 - Section 717 of Title VII of the Civil Rights Act of 1964 1965 - U.S. Executive Order 11246 and Executive Order 11375 The order, as amended, aims "to correct the effects of past and present discrimination". The order requires that contractors take affirmative action to ensure that "protected class, underutilized applicants" are employed when available, and that employees are treated without negative discriminatory regard to their protected-class status. 1973 - Section 501 of the Rehabilitation Act of 1973 Section 717 of Title VII of the Civil Rights Act of 1964 and Section 501 of the Rehabilitation Act of 1973 require all United States Federal Agencies to implement affirmative employment opportunity programs for all federal employees.
Keywords
co-president,
presidency,
presidencies,
affirmative action,
laws,
disability
Citation Information
James T Struck. "How Affirmative Action Could Be used to Make a Co-President And Protect Civil Rights"
submitted to several
(2011)
Available at: http://works.bepress.com/james_struck/25/